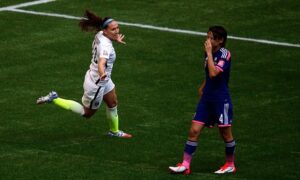 By Michael Ashcraft and Mark Ellis
Lauren Holiday's stunning volley against Japan was the third of a tsunami of goals that gave the U.S. Women's National Team the Women's World Cup on July 5.
Though winning that competition and two Olympic gold medals for women's soccer has been gratifying for Holiday, it pales in comparison with her love for Jesus Christ.
"Success is being the best soccer player I can be," the midfielder says. "The wonderful, wonderful thing about loving Jesus is, it's not about me. And the spotlight isn't on me. So when I do step out on the field, I get to play with freedom because I don't have to worry about if I score or what happens if we lose or if I make a bad pass, because success isn't determined on that with Christ."
Holiday, 27, retired from international soccer immediately after winning the cup. She is part of a cadre of Christians on the national squad that also includes Tobin Heath, Amy Rodriguez, Heather O'Reilly and Jillian Loyden.

Holiday was raised in a Lutheran Church but embraced a vibrant faith when she went into junior high school.
"I went to some youth camps and that's where I started to discover the presence of God," she told BeliefNet. "I was able to experience God through the singing and by talking to other girls that had similar experiences. That opened my eyes but I still had to seek out that relationship."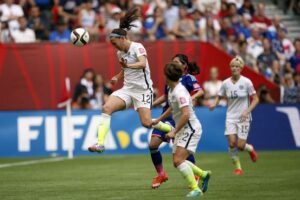 While she was still in high school, she was named to the U.S. Under 20 team, on which fellow Christian Tobin Heath belonged. Coach Tim Schulz is also a fired-up Christian
"He was so passionate and he would cry and he would laugh. I wanted that too," Holiday says. "And that's when I really started to seek the Lord."
As she scaled in the Lord, so she scaled in soccer. She attended UCLA where, in her first season, she led the Pac-10 Conference with 19 goals. She earned First-Team All-American honors all four years of college, and during her time there, UCLA played consecutively in the NCAA College Cup.
She joined F.C. Kansas City, where she won the golden boot and MVP in 2013. Before every game, she leads her team in prayer and even invites opposing players to join.
"Since I was a little girl, I always wanted to play soccer at the highest level. I love the competition," she says. "I'm a follower of Jesus Christ. I think my goal every time I step on the field when people watch me play is that they see joy. I'm having fun, and I'm playing the game that God gave me talent to play."
In the U.S. victory against Japan, a teammate had already scored two goals. Holiday was lurking in the midfield when a Japanese defender headed poorly. The ball went high, not outside. In the hunt, Holiday ran at the falling ball and struck it in the air straight at goal.
Because striking the ball perfectly in the air is so difficult in soccer, 19 times out of 20 professional players send it over the bar. But Holiday had the aim of David with his sling. It hit the net to the woe of her opponents.
In 2013, Holiday married NBA star Jrue Holiday, who plays point guard for the New Orleans Pelicans. The couple plans to start a family.
Holiday will be missed from the USWMNT. Thank God for her bold testimony at the World Cup.