By Michael Ashcraft and Mark Ellis
Their disciples patrolled the Sunset Strip tirelessly witnessing to prostitutes and drug addicts in a "repent or perish" style that alienated as many as it converted.
During their heyday in the early 80s, Tony Alamo Ministries had hundreds of converts, a touring choir, and volunteer work crews that raised funds for their various ministry activities, including printing presses that churned out evangelistic pamphlets nonstop.
Then the movement's leader, Tony Alamo, was convicted and jailed in 1994 for tax evasion and again in 2009 for sex crimes against minors. At 80 years of age, he is currently serving a 175-year sent in a Tucson prison for transporting five minors across state lines for sex.
Despite the hit to this ministry, the movement birthed with hippies of Hollywood did not disappear. In fact, as a mass distribution of pamphlets in Culver City attests, these radical Christians are back.
"You thought we closed down?" said one of their leaders at their church in Canyon Country, California, north of Los Angeles. "No, we never closed down."
At a Sunday afternoon service recently, there was sincere love expressed by the approximately 30 people in attendance. It was a very normal Christian service: worship, testimonies, special music, offering, a sermon and communion – finished within an hour.
The disciples — some converts from the 60s and others young adults who had grown up in the church — are carrying out the mission left them by the Jewish-background Hollywood promoter who turned to Christ and became their pastor with his wife Susan.
"I want to serve the Lord, and I don't care who likes it and who doesn't like it," said the preacher from the pulpit that afternoon. "The gospel is not about making money. It's about saving souls."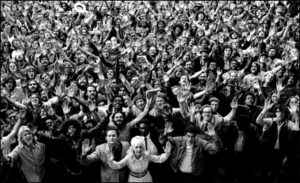 A van brought four people from Hollywood, just as Alamo taught them in the 1970s. After the service, a free meal was given to all. It's an enticement for visitors and the way things are done for the church laborers, who since their beginnings in the Jesus Movement live something of a communal existence.
The church's longevity is a case study of a movement surviving the fall of its charismatic leader. Alamo belongs to a generation of evangelical leaders who rose to prominence only to fall from fame and fortune along with Jim Bakker and Jimmy Swaggart.
The church's survival also raises a thorn patch of ethical questions. How do you continue serving Jesus when your beloved leader suddenly falls into disgrace? Is it better to repudiate him and distance yourself from him or defend him against a tidal wave of accusations?
For the Canyon Country remnant, the choice is clear: they are standing wholeheartedly behind their man. In fact, no pastor has apparently been named to replace his absence at the helm. Alamo continues to be their pastor, and lay ministers carry out duties with admirable coordination.
Tony Alamo is still considered the active pastor of the church.
"Paul didn't stop being pastor just because he was in prison," the lay leader told me.

There are people who would take violent exception, but for the Alamo faithful, their pastor was framed, falsely accused and imprisoned by powerful enemies in the upper echelons of the U.S. government. The lay leader, also a converted Jew, compared it to the evils perpetrated by the Nazis against the Jews.
Tony Alamo was born Bernie Lazar Hoffman. He was a promoter in Hollywood for Sony and Cher, former and current church members said. His conversion to Christ came when he met and married Susan, who had a heart to reach out to the hippies of Hollywood.
Alamo apparently earned a reputation as a crazy when he stood up in a meeting of Hollywood promoters and declared, "Repent! Jesus is coming soon!"
Drug addicts and disaffected youth lost in the streets were drawn to Alamo and his wife. The new converts slept on mats in a Hollywood home that served as a church. They prayed, studied the Bible and evangelized unceasingly.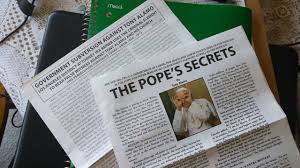 The Alamos were part of the Jesus Movement that harvested thousands of hippies who gave up drugs, sex and rock 'n' roll for salvation, hope and truth. Built on the disenfranchised youth of the time, the Jesus Movement was chock full of quirks and conspiracy theories, and the Alamos were no exception.
Respected evangelist Billy Graham served as a bridge between traditional evangelicals and the uncouth, longhaired new converts. He disguised himself and infiltrated their movements to check them out and validate the authenticity of what Christ was doing.
One Alamo defector, Tom Stinson (not his real name), said that Graham was so struck by the evangelistic zeal of the Alamo youth that he doubted his own salvation and wanted to accept Jesus right then and there on the street when he met their evangelizers.
"We cleaned up the strip," Stinson said. "We would evangelize up and down the street at all hours. You'd meet one group who met you with 'repent or perish,' and then you'd leave them and hit another group. Nobody wanted to come out to the strip anymore. We got rid of the drug dealers and the prostitutes."
While hundreds of youth were getting saved, many Hollywood businesses didn't appreciate the constant presence of "religious fanatics." They apparently enlisted the support of city authorities who closed down the Hollywood home-turned-church, Stinson and current members said.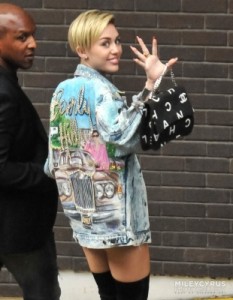 Stinson said police raids at the home were frequent and abusive. Tear gas canisters were opened in the house, while the door was held closed by the police to not let anyone out, he said. His account was corroborated by a current church member.
With the closing of the Hollywood home, the Alamos purchased an abandoned restaurant in Canyon Country to be their new base. Buses were used to transport evangelizing youth to and from Hollywood and bring nightly new converts to services.
The ministry burgeoned, and Alamo — with organizational genius and business savvy — realized he needed to keep new converts busy in positive activities, so he formed work crews whose contracts were paid to the church. He opened businesses staffed for free by converts. As the years passed and the church grew, multiple millions of dollars flowed to the Alamos' control.
"Tony was always good at business," Stinson said. It was during this time that Alamo designed a sequined and rhinestone denim jacket that fetched high prices among the stars of Hollywood. He posed with celebrities and mayors as his trajectory shot upward.
Then in 1976, Tony and Susan moved to Alma, Arkansas, where they established their new headquarters and founded another church that similarly exploded with growth, following the same model.
In 1982, Susan died, an event that greatly shook the church, which had prayed and believed for her healing from cancer. She was embalmed and entombed on display at the Arkansas facility where congregants held prayer around the clock for two hour shifts believing she would be brought back from the dead.
Her death was part of Tony's demise, according to Stinson. Susan had done much to keep the flamboyant Tony on track.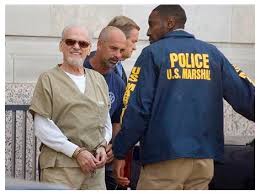 Now Tony had no wife, no accountability, and  virtually limitless finances, followers and fame. It was a noxious mix that destroyed the man of God, Stinson said. The Department of Labor investigated unpaid wages for his work crews, and Child Protective services investigated their childcare facilities. Allegations of abuse, molestation and polygamy emerged.
The Alamo faithful saw these federal investigations as nothing more than continued persecution. A siege mentality developed, and they resisted it.
While different agencies investigated, ultimately it was the IRS that convicted Alamo of tax evasion, citing his virtual exclusive control of finances earned by work crews and businesses in the name of the tax-exempt church. He spent four years in prison.
After his release, accusations from former followers only increased, as did government scrutiny.
In 2009, he was convicted of charges of moving minors across state borders for sex. As he serves his prison term, lawsuits have progressed against him by those wronged. Seven women were awarded $525 million in an Arkansas courthouse in 2014, and the attorney has proceeded to lay claim to Alamo's many properties to make good on those payments.
Meanwhile at the Canyon Country church service, the turmoil of the past was not the focus. What was preached was Jesus. The lay preacher taught from the Bible and emphasized the need for holiness. Letters were read about people coming to Christ through literature sent internationally free of charge to any Third World evangelist who would ask for it.
Testimonies were given about Jesus changing lives. A drug addict has persevered in Christ's freedom. A former Jew explained his assurance of Heaven. He said nothing this world has to offer could sway him from his eternal destination.
"No matter how much persecution we get, we're going to keep having services," the lay preacher said.