By Michael Ashcraft and Mark Ellis
Quarterback Tom Brady says it wasn't under-inflated balls that helped the New England Patriots clinch the AFC Championship. It was the team chaplain.
The 4-time Super Bowl winner is telling people that Jack Easterby, 31, gets a lion's share of the credit for the Patriot's season, which culminated with a final win against the Seattle Seahawks on Sunday.
"He's just a great person and friend," Brady told ESPN. "You feel a special connection with him and with his genuine caring for all the people in his life."
While some team chaplains may feel neglected by their organization, Easterby is on the Patriot payroll with an office near Coach Bill Belichick. He's an exceptionally upbeat former college basketball player who connects with professional athletes.
His website, "The Greatest Champion," encourages viewers to accept the greatest champion of all — Jesus Christ — who hung on the cross and resurrected from the dead.
Safety Devin McCourty called Easterby "a godsend to this team" who has "helped create better men," ESPN reported.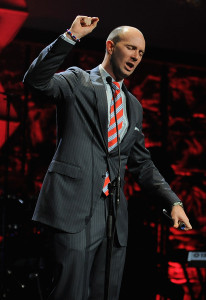 For Easterby its not a part-time gig; it's a full time calling. "He hosts Bible study, works coaches' hours in his office counseling players and their wives, throws passes in practice to Darrelle Revis and sometimes even jumps in on scout-team drills. When he's not listening, he's texting. When he's not texting, he's writing players and coaches individual notes, recapping their personal goals and reminding them of how thankful he is to know them," according to ESPN.
Special teams player Matthew Slater, also a Christian, treasures the encouragement he got from Easterby when he was sidelined for four weeks with a broken thumb.
"As macho as we are in this locker room, we all want to be loved," Slater told ESPN. "As men, sometimes we don't know how to deal with different emotions or ups and downs. We don't grieve the way we should, experience sadness the way we should or express joy the way we should, because we're so focused on the job. Jack has been there to say, 'It's OK to be down. It's OK to have heartache.'"
Love probably doesn't get much airtime in pro-football locker rooms. But Easterby is completely unafraid to give big bear hugs to players and coaches alike. That's because he recognizes that in moments of football failure, team members need encouragement to refocus.
In 2012 when he was chaplain for the Kansas City Chiefs, he hunted down coach Scott Pioli after another painful loss in a disastrous season. Knowing Easterby's game plan, Pioli was actually hiding from him – he didn't want a hug. When Easterby finally cornered him, the coach growled, " Jack, don't do it."
Not only did Easterby go for the hug anyway, he held on with God's strong grip.
When Chiefs linebacker Jovan Belcher killed his girlfriend and committed suicide with a handgun in front of players in the team's parking lot, Easterby was on hand to calm the nerves of shaken teammates. In front of men shell-shocked by what they had just witnessed, Easterby told them: "There is hope beyond these moments. There's something bigger going on."
Former Chiefs linebacker Andy Studebaker recalled to ESPN, "Men left encouraged. And they left in tears."
So when the Patriots started July 2013 camp with doubts about the direction of the Patriots, Easterby was hired. Aaron Hernandez had just been arrested on charges of murder. The 2007 "Spygate" videotaping of New York Jets coaches' hand signals continued to loom over the Patriots' credibility. Easterby was brought in to re-focus a beleaguered team and prioritize character.
"The Patriots, for all the attacks on their character, have actually invested more on their team's character than any team in the NFL," said Seth Wickersham, the ESPN reporter who first identified the chaplain link in the Patriot success.
Regardless of how Ted Wells' investigation ends in "Deflategate," many on the Patriots team know who and what helped them win. Through weeks of intense scrutiny, mud-slinging and snide comments against the Patriots, Easterby has stood by the side of his players and challenged them to be better people. He showed them God's love.
He "offers love with no strings attached," Slater said.
https://www.youtube.com/watch?v=b-G2Q8l0yK8