By Michael Ashcraft and Mark Ellis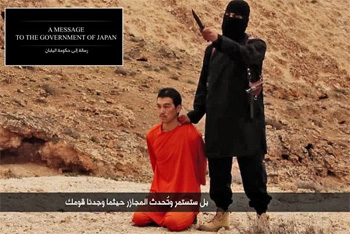 Japanese journalist Kenji Goto, beheaded by ISIS in a newly released gruesome video, also happened to be a devout Christian.
A reporter seasoned in war zones, Goto traveled to Syria hoping that Japan's pacifist stance would grant him relative safety, unlike other journalists from nations leading airstrikes against ISIS.
He failed to take into account this new brand of terrorists is breaking all previous norms, with no apparent limits to their depravity.
"You, like your foolish allies in the Satanic coalition, have yet to understand that we, by Allah's grace, are an Islamic caliphate with authority and power, an entire army thirsty for you blood," a masked militant says in the video while holding a knife to Goto's neck.
In his reporting, Goto focused on the human cost and suffering of war, not on who was winning or losing. An Associated Press report quoted his former pastor, Hiroshi Tamura, who cited his Christian faith for inspiring his reporting.
Goto accepted Jesus in 1997, which was somewhat rare considering only two percent of the population of Japan is Christian. Christ's call to reach the poor and broken in sprit seemed to motivate his journalism.
"I have seen horrible places and have risked my life," he told ChristianToday.com. "I know that somehow God will always save me."
But instead he joined the ranks of Christian martyrs who have given their lives for a higher cause – the cause of Christ. Terrorists may have taken his physical life, but they could not rob his soul of heaven's joys.
While he focused on refugees, poverty and innocent victims of war, his reporting also yearned for a world of peace and wellbeing, according to his mother, Junko Ishido.
Goto, 47, traveled to Syria in October 2014 to report on the war and to liberate an old friend, Haruna Yukawa, who was first captured by ISIS in August when he was peddling arms. Instead of negotiating Yukawa's release, he himself was grabbed by the terror group.
At first the twosome appeared in a video on Jan. 20 demanding $200 million from the Japanese government – a sum equal to that committed by Japan in non-military aid to countries fighting ISIS.
But when the stipulated deadline passed, Yukawa was executed and Goto was then offered freedom, along with a Jordanian pilot, Moaz al-Kasasbeh, in exchange for an Iraqi terrorist in Jordan.
Jordan offered up Sajida Mubarak Atrous al-Rishawi, on Jordan's death row for a 2005 attempted terrorist attack, in exchange for the pilot, but it demanded proof the pilot was still alive. Days passed without news of the exchange.
Then Saturday's video appeared. It featured a black-clad terrorist speaking in a British accent – identified as the same "Jihadi John" who oversaw the beheading of U.S. journalist James Foley. Goto, dressed in orange prison-like garb, was on his knees and remained without speaking in an open desert.
The ISIS spokesman called out Japan's premier: "Because of your reckless decision to take part in an unwinnable war, this knife will not only slaughter Kenji, but will also carry on and cause carnage wherever your people are found," he says. "So let the nightmare for Japan begin."
Goto's wife gave birth to their second child in October. He has an older daughter from a previous marriage.
Goto met Yukawa in April 2014 in Syria and took him under his wing to show him the ins and outs of moving about in conflict zones. "He was hapless and didn't know what he was doing," Goto told Reuters in August. "He needed someone with experience to help him."
Yukawa was something of a lost soul. When his wife battled cancer, he attempted suicide unsuccessfully. Later his wife died, and Yukawa lived on the streets after his business went bankrupt and he lost his home. His efforts to become a military contractor was an attempt to get his life back together.
Goto was a compassionate free-lance journalist who focused on ordinary people in times of extraordinary suffering. He covered the diamond wars of Sierra Leone and the post tsunami regions of northern Japan.
In the days leading up to his death, friends set up a Facebook page calling for his release that drew tens of thousands of "likes." Demonstrators in Japan protested international terrorism holding signs "I am Kenji" – a takeoff of the solidarity with the terrorist-struck French satire magazine Charlie Hebdo.
"Kenji lives on — in all our hearts, in our daily work, every time you smile with those around you, you will be sure to remember that big smile Kenji always gave us," wrote Taku Nishimae, a New York filmmaker, as quoted in Yahoo News.
Yes, and he lives on in Heaven too.