By Mark Ellis —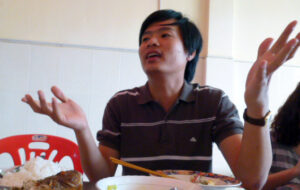 He survived the perils of life in the worst slum in Phnom Penh only to see his home – and thousands of other shanty dwellers' homes — ravaged by an arson fire. But through it all, God had a plan to bring calm to a troubled young soul.
"My parents moved to the city to find work," says Makara Lim, now a youth leader and worship pastor at Church of Cambodia in Phnom Penh. Makara stayed with his grandmother a few hours east of the capital city as his parents tried to make their way in the bustling city – his mother selling vegetables and his father driving a taxi.
His parents lived on a mattress outside the front gate of a relative's home.
Makara's grandmother was a strict Buddhist who prayed at dawn and dusk each day to her God — at least an hour of prayer and worship in each session.
Due to the rigors of his parents' long work hours, with little time to rest, Makra's father contracted typhoid. Sadly, he succumbed to the disease in only three months.
So at nine-years-old, Makara and his two sisters moved into a slum area with their mother near the Russian embassy in Phnom Penh. "It was full of taxis, vegetable sellers, drug addicts, prostitutes, robbers, and all the bad people lived there," he recounts.
A blackened river ran near the slum known as "Hundred Directions Water" because it became the drainage channel for every form of human waste and debris. "The water had a very bad smell," Makara says.
Makara's mother began to get sick from a mysterious ailment that no doctor could explain. "First they thought it was her stomach, then her lungs, then her liver," he recalls. "She was getting weaker and weaker, losing her will to live."
"The doctors gave up hope and told her to go home. They said they had no way to help her." Makara's mother asked her sister if she would care for her three children when she died.
One Saturday night a Christian woman came to visit the family and spoke very directly to Makara's mother: "Sister, Jesus is God," she declared. "He is the Savior of the world and the Savior of sinners. If you come to know the Lord Jesus – even if you die today — you go to heaven."
"Jesus is very powerful. He has the power to heal all your diseases," she said.
Makara's mother had a sharp, negative reaction to her message. "Jesus is an American God, a foreign God, not a Cambodian God," she told the woman.
"She was a really strong Buddhist and she hated Christians so much," Makara notes.
But later that night, around midnight, the power of the living God began to prevail upon her hardened heart. The Holy Spirit broke down walls of resistance as only God can do.
Having lost all hope, Makara's mother looked up toward the starry night and said a prayer for the first time to the Christian God. "I don't know how to pray to you," she began, "but if you are the real God, please come and heal me."
Then she fell into a deep sleep.
"When she woke up in the morning she was healed from the top of her head to the bottom of her feet," Makara recalls with joy.
"He answered my prayer! He answered my prayer!" she shouted to her stunned children and anyone else who would listen in the neighborhood.
"She knew this God must be the real God" and accepted Jesus Christ as her Lord and Savior, Makara recounts.
Because of his mother's miraculous healing and the influence of a church they began to attend – Compassion of Christ Church – Makara was also born again.
Shortly after they found Jesus, a tragedy struck the slum area where they lived. In the middle of the afternoon a fire broke out with unusual ferocity. "They threw gasoline into the whole area and in one hour a few thousand houses were burned," Makara recounts. Powerful interests wanted the land for redevelopment and were behind the conflagration, he alleges.
Makara and his mother were at home when the fire erupted, while his two sisters were at school. At first they ignored the screaming and yelling about a fire, thinking it was a small matter. But then the firestorm was upon them.
"It was so urgent I couldn't even bring one pillow or one bag of clothes," he says. They lost everything.
With the help of the church and other family members, they slowly got back on their feet.
Makara has experienced a transformation of his heart since he began to follow Jesus. "My anger before was very bad," he recalls. "When people hurt me I wanted revenge, painful revenge."
But after his conversion, he was falsely accused of wrongdoing by a friend, and he even surprised himself when he initiated reconciliation with the person, rather than attempt to get even. As he reflected on his response to this matter, he could only marvel.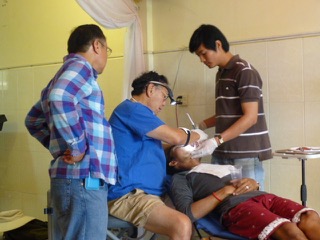 "I realized it is not me at all," he notes. "It is the Lord who changed me. He gave me a new heart, a heart to love others."
An infectious joy touches everyone around Makara now. He recently participated in a free dental mission organized by Pastor Paul Ai, founder of Vision Outreach International, in several impoverished neighborhoods around Phnom Penh.
If you would like to know more about a personal relationship with God, go here