By Michael Ashcraft —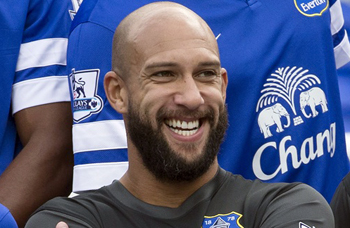 After Tim Howard stopped a record 16 shots during a World Cup game against Belgium in 2014, an overly exuberant American edited Wikipedia's listing of the U.S. Secretary of Defense and inserted the goalie's name.
It was quickly changed back to Chuck Hagel, who actually called to congratulate Howard for the respectable USA soccer showing in the July 1st match. Team USA lost 1-2.
Howard's moment of earthly glory proved fleeting – which is fine with him because he likes to direct his praise elsewhere. "Some people bask in that glory," Howard, 35, told Campus Crusade for Christ. "For me, it is a burden."
"I am blessed to be living a dream. And yet, if it all went away tomorrow, I know I would still have peace. That probably sounds crazy to most people, but that's the kind of peace Christ gives. It is rooted in His love, and it surpasses all understanding," he told the Huffington Post in a separate interview.
Howard grew up in a single mother household in North Brunswick, New Jersey, in relative poverty. His mother was from Hungary and divorced when he was three. Amid the difficulties, his grandmother became a point of reference, her deep faith in Christ setting the tone for Howard's life.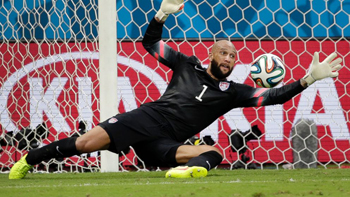 "She was always the glue, the rock that held everything together," Howard noted in an interview with Fellowship of Christian Athletes. "She did it very quietly and very humbly. That was powerful. What always stood out about my grandmother for me was her compassion. In the midst of any storm, she had so much peace, which clearly came from one source: God."
In addition to the struggles inherent in a single parent household, Howard also suffered from unexplainable outbursts that created enormous embarrassment and insecurity. Not until he was in the fifth grade were the mysterious spasms diagnosed as Tourette's Syndrome. Knowing the diagnosis gave him a measure of peace, but the terror of never knowing when or how it would strike next haunted him.
While the neurological disorder of physical and verbal tics threatened his esteem, it didn't hamper his athleticism. He began playing soccer at age six, and by age 19 he became goalkeeper for the Major Soccer League team then known as Metro Stars. After some sensational seasons, UK soccer titan Manchester United signed him in 2003. He had made the jump to the highest level.
At Manchester United, Howard had an electrifying breakout season. He debuted in a European Champions League match against Juventus, an Italian team, in which he made nearly a dozen heart-stopping saves. One rocket seemed sure to burst the net, but Howard's acrobatic leap blocked it.
"Oh, a great save by Tim Howard!" an English announcer shouted.
Of 29 games, Howard earned 11 clean sheets (no goals scored against him) and was named the 2004 Premier League Goalkeeper of the Year.
His second season at Man U. wasn't so celebrated. He conceded a critical goal that eliminated his team from the Champions. With some below par performances, he was dropped from the starting roster.
At the same time, the loneliness of being in England and losing his supporting circle of Christian friends, was troubling him. He eventually found fellowship at Bramhall Baptist Church, where he volunteers in the youth group L8tr Club.
In a nation where only 16 percent of the population attends church, Howard was meeting with kids with no reference point of God in their lives. Drawn to play street ball with a professional player, they asked him questions about his faith.
"The best time for me is when I see a breakthrough in (the youth), to see them get a grasp of what God and Christ really mean," he told the Huffington Post.
Howard was loaned to Everton F.C. in 2006, where he eventually signed a long-term contract. In the 2008-09 season, Howard set his club's record for most clean sheets in a season. In 2011-12, he made a goal, clearing the ball 102 yards, propelled by the wind. It caught the opposing keeper out of position and off guard.
Surprising many, Howard didn't celebrate the amazing feat and explained later he didn't want to humiliate his opponent.
He continues to thrive between the posts at Everton.
Playing for Team U.S.A. in the 2009 FIFA Confederations Cup, Howard parried eight shots to help upset the world's #1-ranked team, Spain. The national selection achieved their highest level win in an international competition, finishing second to Brazil.
But it was his astonishing performance at the World Cup 2014 that established Howard as a national icon. Having won the hearts of America with his record-breaking display of 16 saves, one Tweet picked up by the media declared: "Second only to Jesus in number of saves."
The jesting allusion to Christ was no mistake. People know he's an outspoken Christian.
"The most important thing in my life is Christ," he said. "He's more important to me than winning or losing or whether I'm playing or not. Everything else is just a bonus."
If you want to know more about a personal relationship with God, go here