By Mark Ellis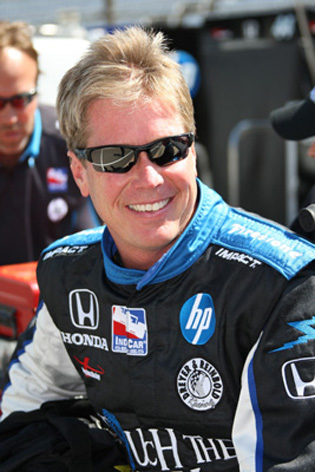 In 2001 Davey Hamilton finished his sixth Indy 500 race and then went to compete in the Texas 500. As he screamed around the track at over 200 miles per hour, another car's blown engine caused a horrific crash that changed the course of his life.
"It was another race, nothing spectacular," Hamilton recalls. But then driver Jeret Schroeder lost his engine and Schroeder's car barely nicked the back of Hamilton's car. Suddenly Hamilton's car was spinning toward the wall and went airborne – headed the wrong way.
"I went above the wall and the poles that hold the chain link fencing sheared the front of my car off, leaving my legs exposed," he recalls.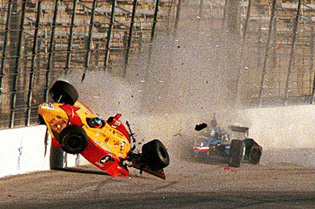 At the moment of impact, Hamilton's car was flying around the track at 214 miles per hour. "It was over a 100 G-force hit. The only thing in front of the car was my legs, dragging on the ground, exposed to the asphalt and all the other elements," he says.
At first, Hamilton didn't know the front of his car was gone, but he knew he was in massive pain. When the car came to a rest and he tried to get out of the car, his legs went into spasms, so he knew he broke them.
As they wheeled Hamilton off the track in a stretcher, he clasped his hands together to pray. "I knew I was in trouble and I needed God more than ever before," he says.
At the infield med center they couldn't give him any painkillers until they knew if he had any head or internal injuries. As they cut his racing suit off his body, he screamed in pain.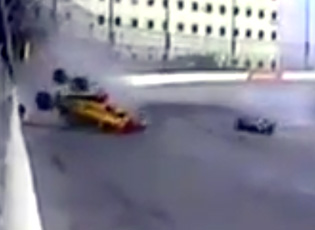 Then he overheard doctors on the phone saying they appeared to have a double amputee. Hamilton thought to himself, Somebody must have gotten really hurt.  He didn't realize they were talking about him.
Then he looked around the room and saw he was the only patient in the facility. "Reality hit very rapidly," he says.
Physicians at Parkland Hospital in Dallas wanted to amputate both legs.  (This is the same hospital where President John F. Kennedy was taken after his assassination.) But Dr. Kevin Scheid, who serves as a consultant to the Indy Racing League, wanted to save the legs. "He knew what I did for a living. If it wasn't for him, the results would have been different," Hamilton notes.
The injured racer endured 22 surgeries over the next two years. Hamilton had bone and skin grafts, muscle flaps, and his ankles fused. They rebuilt his feet using the broad 'lat' muscles of his back.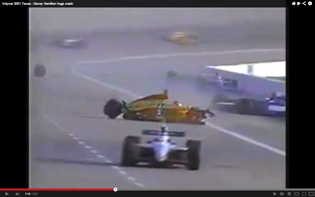 Through it all, Hamilton prayed like never before. Even though he had known the Lord since 1981, his racing schedule had superseded his church attendance, as he pursued his dream to be an Indy car racer.
But as he went through his recovery, faith became all-important. With God's help, he returned to racing six years later, something no one thought was possible. Unbelievably, his very first race was the Indy 500.
"I qualified really well and raced in the top five most of the day," he notes. Then rains hit and he ended up finishing ninth – still a remarkable achievement.
Now, through Hamilton's affiliation with Kingdom Racing, he races for his Lord and Savior Jesus Christ. Kingdom Racing has a unique mission: to deliver God's Word through motorsports. They offer on and off-track outreach programs that build disciples of men, women and children.
The ministry was launched by a Houston businessman George Del Canto, who had been an avid race fan since his boyhood.
In 2008, Kingdom Racing made history as the first faith-oriented team to compete in the Indy 500, with Davey Hamilton in the driver's seat. They have run 6 consecutive Indy 500 races and concluded their second season of INDYCAR competition in 2013.
Their goal is to use INDYCAR races as a platform to reach 1,000,000 men for Jesus Christ.
"Racing is different from other sports," Hamilton notes. "We can put 'Kingdom Racing' on the car – you can't do that in the NFL."
"We can spread the Word of God the way others spread advertising."