A group of extremist Buddhist monks and laymen attacked two Christian religious centers in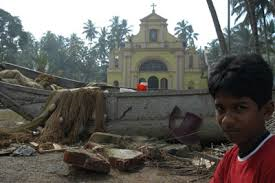 Hikkaduwa, Sri Lanka's tourist city in the south.
Buddhist organizations in Hikkaduwa staged a protest  against Christian prayer centers operating in the region.
The monk-led mob resisted the police and destroyed property, hurling stones at the two prayer centers. The mob broke doors, windows and burned religious signs and books.
Local media videotaped the violence and broadcast on the evening TV news. The residents of these religious centers were threatened, and the police temporarily closed the main Galle Road as residents entered Hikkaduwa town.
The Buddhist monks that led the protest said that the administrative authorities had ordered the prayer centers withdrawn. However, the pastors in charge of these centers said they were duly registered and the eviction order is illegal. The rising religious intolerance from extremist Buddhist monks in Sri Lanka has raised alarms among the moderate public. If authorities fail to take adequate measures to curtail the violence, the actions of these extremist groups will have more serious consequences, civil society leaders warn. –International Christian Concern