By Mark Ellis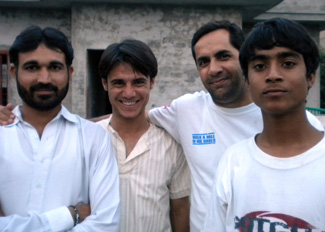 A 16-year-old Christian convert from Islam, Aman Ullah, was kidnapped by the Taliban on May 25th in Peshawar, the heart of Pakistan's North-West Frontier Province near the Khyber Pass.
"We don't know which of the 32 different Taliban groups operating both in Afghanistan and Pakistan is responsible," says John Taimoor, president of Messianic Muslims. "My team, workers and disciples from Muslim backgrounds are facing pressures from many sides and physical persecution," he says.
The young kidnap victim had only come to Christ a year ago, but had already memorized the books of John and Ephesians in the Bible. His goal is to memorize the entire New Testament, since he had already memorized the Quran as a young person.
"He is very dear to me," Taimoor says. "Aman Ullah means 'peace of God' in Arabic, Persian, Urdu and Pushto languages," he noted. "He is a diamond, very dedicated and brilliant. He was outgoing; he made public statements and gave his testimony."
As part of Taimoor's disciple-making, he insists young converts memorize the Book of Ephesians to demonstrate seriousness about growing in their faith. "Our lifestyle is very Islamic," he notes. "We get up early to pray at the same time as the Muslims and pray throughout the day. We follow their rhythm of life."
Taimoor requires young female converts to continue to cover their heads in Islamic fashion.
Taimoor asks for prayers for his ardent young disciple. "We are looking to our Savior who is able to save us to the uttermost but we also look to our friends for prayer and what God place on their heart!"