By Mark Ellis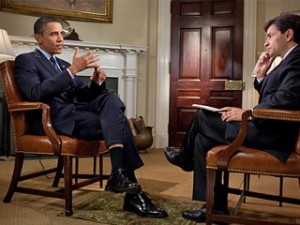 On the eve of the Roman Catholic Church's selection of a new pope, President Barack Obama sat down with ABC's George Stephanopoulos in a wide-ranging interview covering subjects extending from North Korea to the Vatican.
The president was asked about concerns voiced by a few that the choice of an American pope would lead to an unhealthy alliance between the church and the U.S. government.
"I don't know if you've checked lately, but the Conference of Catholic Bishops here in the U.S. doesn't seem to be taking orders from me," President Obama told ABC. The president smiled broadly as he considered the likelihood of such a prospect.
While the conclave chose a South American as the new pope the day following the interview, the president seemed to welcome the idea of a pontiff from the northern part of the Americas. "It seems to me an American pope would preside as effectively as a Polish pope, an Italian pope, or a Guatemalan pope," he said.
The president then lauded the work the Roman Catholic church performs helping the poor around the globe, before he stated his own view of the essence of the gospel.
"My hope is that you have a pope who sustains and maintains what I consider the central message of the gospel – that we treat everybody as children of God, that we love them the way Jesus Christ taught us to love them."
The president's religiosity has been an object of controversy for many, with some refusing to believe his affirmations of Christian faith and some even asserting he is actually a Muslim.
At presidential prayer breakfasts in recent years, President Obama has continued to declare his faith and has even provided a glimpse of his spiritual disciplines.
He has said his daily routine includes a short devotional at the start of the day. "I wake up each morning and I say a brief prayer, and I spend a little time in scripture and devotion."
President Obama also takes calls from two influential Christian leaders: Joel Hunter, a mega church pastor from Florida, and with T.D. Jakes, a mega church pastor from Texas.
The president said his personal faith often guides his public policy choices. "When I decide to stand up for foreign aid, or prevent atrocities in places like Uganda, or take on issues like human trafficking, it's not just about strengthening alliances, or promoting democratic values, or projecting American leadership around the world… It's also about the biblical call to care for the least of these –- for the poor; for those at the margins of our society.
"Our goal should not be to declare our policies as biblical. It is God who is infallible, not us. Michelle reminds me of this often," President Obama said.
One consistent theme President Obama asserted at the prayer breakfast last year is to live out one's faith in an authentic way.
"The Bible teaches us to 'be doers of the word and not merely hearers.' We're required to have a living, breathing, active faith in our own lives. And each of us is called on to give something of ourselves for the betterment of others — and to live the truth of our faith not just with words, but with deeds."
President Obama has said that a visit with Billy Graham in 2010 led to greater passion in his devotional life. "I have fallen on my knees with great regularity since that moment — asking God for guidance not just in my personal life and my Christian walk, but in the life of this nation and in the values that hold us together and keep us strong. I know that He will guide us. He always has, and He always will."