By Mark Ellis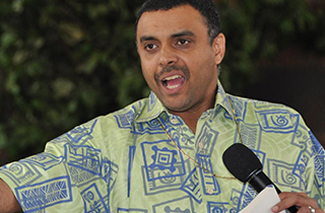 British-born Dag Heward-Mills is the son of a Ghanaian lawyer and Swiss mother, but grew up in coastal Ghana where he gave his life to Christ as a teen.
While still in medical school, he answered a call into ministry and began holding meetings in vacant classrooms at the medical school, which became the genesis of the first Lighthouse Chapel. The movement he launched has grown precipitously to over 1200 churches in 60 countries under his oversight.
He offers a stinging critique of the church in the West, particularly the U.S. "The church in America is rich but powerless," he says. "The power of the church in America has been taken away because no one is prepared to suffer for the gospel."
Heward-Mills believes that deviating from the message of the cross has weakened the church. "When you set aside the cross you insult God, you insult the blood of Jesus," he states. "When you preach about the cross, you bring in the power."
The quest for the comfort and prosperity inherent in the American dream is at odds with sacrifice, in his view. "The message of John 3:16 has changed into something about getting a bigger car, a big house, and being comfortable," he observes. "That's not the real reason Jesus died."
"If you preach salvation and the suffering of the cross, you're the odd man out," he notes.
Heward-Mills also laments a decline in missionary activity in Africa. "In the past, there were missionaries from all over the world preaching the gospel in Africa. Now it's uncommon to find them; they are becoming more rare."
"Americans have taken the gospel around the world, but it's different now," he notes. A strong testimony has often been replaced by humanitarian relief missions. "It's valid to help the poor, but it's not the gospel."
In the void left by a less-than-powerful witness, Islamists – who are prepared to die for their faith – have leaped in. "We have laid aside the power of the cross," he says. The American church is "like a eunuch that is big but powerless and can't reproduce. They can only serve queens."
"Most of the countries in West Africa are becoming Muslim because Christians are failing to go."
In Heward-Mills' outreach to Muslims in northern Ghana, he uses a respectful approach. "We work with Muslims and make friends with them and they don't cause us trouble. We preach Christ and Him crucified, but we don't criticize Islam."
In his new book, "Loyalty & Disloyalty" (Carpenter's Son Publishing) Heward-Mills identifies a qualification for church leaders and their flocks that is vital, but often overlooked: loyalty.