Now acquitted and freed, but in hiding and in fear of her life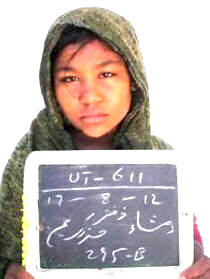 By Dan Wooding
It was around midnight on a fateful August night when a young Christian girl was brought into the Ramna Police Station and accused of blasphemy and then sent to jail.
She is Rimsha Masih, a 14-year-old illiterate and mentally-challenged girl, was foraging around her area in search of paper that could be used for heating and cooking in her poverty-stricken home in a Christian enclave of Islamabad, the Pakistani capital city.
It had been alleged by a neighbor that girl had desecrated pages of a book containing verses from the Quran by burning them, and this news soon spread like wildfire and caused panic in the area where she lived with her family.
"Due to the fear, about 250 Christian families from the area fled into the jungle," said Shamim Masih, an ANS correspondent in Pakistan and also a human rights activist. "The displaced families tried to settle down there but the local residents chased them out and didn't allow them to live there for the time being, but fortunately the Capital Development Authority (CDA) chairman told them to set their tents for the time being."
But then came a strange twist in the case when some Muslims came forward and alleged to the police that a local Muslim prayer leader, Khalid Jadoon Chishti, had burned the papers himself and placed them in Rimsha's bag to make sure she was found guilty.
On September 22, 2012, police investigating the case declared that prayer leader was guilty of the crime, adding that there was no evidence against Rimsha and that he had framed her.
As the worldwide community began protesting this case, some good news for the poor girl came, and that was that the Islamabad High Court (IHC) in Pakistan had on Tuesday, November 20, 2012, ordered that the case against her be thrown out.
Rimsha's actual trial had been on hold since September 28, when the IHC restrained the lower court from moving forward while it deliberated.
Rimsha, who is deemed to be fourteen years old but with a younger mental age, was charged with desecrating the Qur'an under section 295B of the Pakistan Penal Code (PPC). She has been out on bail for over two months and is still in hiding with her family.
According to Shamim Masih, many Pakistani Christians have welcomed the IHC decision and appreciated the efforts of administration and he was able to interview some of the key players in the case.
He told ANS that Akram Masih Gill, Minister of the State for National Harmony, said that the acquittal was "really a victory of law". Mr. Gill thanked the cooperation of the administration, lawyers and media for "putting their hands together to win the national solidarity and peace harmony in the country."
Akram Gill said that it was also a victory for the Christians in Pakistan and added, "we believe that the day has come when we need to work hard for the unity of the Pakistani Christians.
He went on to say, "Especially in Rimsha's case, some Pakistani Muslim leaders have played a positive role and saved the Christians people of the said vicinity from any ambiguity.
"It has also been proved that the blasphemy law is misused and the present government has shown its interest in it, which shows that misuse of the law will not be tolerated."
Shamim Masih told ANS, "Mr. Gill has aarranged the temporary livings for the displaced Christians families of Rimsha case with the coordination of the chairman of Capital Development Authority in H-9/2 Islamabad and he said that he is also working on the alternate permanent living for those families.
"Mr. Gill went to Mardan Church right after the incident happened and said that he always stand with the nation and would work to save his people.
Mr. Masih also praised the work of Tahir Naveed Chaudhary, Rimsha's lawyer, saying, "He is the man who had threats on his life and yet went to save this daughter of the nation, knowing that two courageous government officials, Salman Taseer and Shahbaz Bhatti, were murdered for standing against the country's blasphemy laws."
He added that Tahir Naveed Chaudhary is based in Sarghoda and is a selected minority member on Pakistan People's Party seat in the Punjab Assembly.
"Tahir Naveed Chaudhary said that the Islamabad High Court's decision to throw out the case was based on the fact that no one had seen her burning pages of the Quran," said Shamim Masih. "The case provoked international concern and she could, in theory, have face execution under Pakistan's blasphemy law despite her age and reported mental problems. I have seen him running in the court premises during the sun and rain. Tahir Naveed is wonderful man having heart for Christians."
Mr. Masih also praised the courage of Basharat Khokhar who, he said, 'W as seen in every picture during the proceeding of Rimsha case in the local courts, protecting the lawyer like hundreds of other Christians who witnessed the court hearings as gesture of sympathy with minor girl in the case she was feared death sentence.
"In the tight security in Adyala Jail, Rawalpindi, where Rimsha was waiting for her bail, on September 8, 2012, Basharat as an employee of police, and being a Christian, was deployed to provide adequate security to accused Christian girl to escort her from an armed vehicle in the jail compound to the waiting helicopter that took her away to safety."
He stated that Mr. Khokhar had started receiving death threats on his cell phone from unknown people in October 2012, which he brought immediately in notice of his high officials who transferred him to a police station in suburbs of Islamabad to ensure his safety.
"The threats of killing Mr. Khokhar have not stopped and he and his family are living in fear and not moving outside home for minor shopping of daily grocery and sending their children to school," said Mr. Masih.
Mr. Masih also spoke highly of Dr. Nazir S. Bhatti, President of Pakistan Christian Congress (PCC) who he said had applauded judgment of Islamabad High Court to drop the blasphemy charges against the Ch ristian girl.
He said that Dr. Bhatti had told him that the blasphemy law "is being abused to settle scores against religious minorities in Pakistan and the judgment on Rimsha's case have proved it."
Bhatti also said, "The PCC demands that all cases lodged under the blasphemy law against Christians be re-opened," and added that there are "more than dozen innocent Christians behind bars waiting for their trials in blasphemy cases who have been accused because of business rivalry or petty disputes with Muslim complainants."
So now the case against Rimsha Masih has been proved false and now it is time for the Pakistani authorities to put a halt to these trumped-up blasphemy cases and allow the Christian community to live in freedom in their own country. — ASSIST News