Christians in India's most religiously intolerant state have witnessed heightened violence in the past several weeks, including Hindu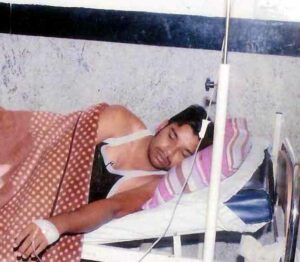 extremists attempting to slit the throat of a pastor as he lay hospitalized from a previous attack, sources said.
Karnataka State led India in attacks against Christians from 2009 through 2011, according to the Evangelical Fellowship of India (EFI). Christians or their property are attacked an average of three times per week in Karnataka, Christian Legal Association Senior Advocate S. Nova Bethania told Morning Star News.
"Such instances are not being investigated properly, and offenders are neither traced nor brought to book," said Bethania, who is based in the state capital, Bangalore. "This has emboldened perpetrators of such crime to extend their anti-Christian agenda."
In Kannur village, near Kolar, pastor Samuel Kim of Jerusalem Prayer House told Morning Star News that Hindu extremists beat him unconscious on a road on Oct 11. He was admitted to R.L. Jallappa Hospital with a broken rib, severe injuries to his head and neck, and bruises on the rest of his body.
At 4:30 a.m. the next day, the assailants came to Pastor Kim's private ward and tried to kill him, he said.
"Five extremists came near my bed, started to strangle me and brought a razor to slit my throat," he said.
The assailants fled when they heard people approaching, he said.
Ram Niwas Seeat, superintendent of police in Kolar (Rural), gave him police protection for the next seven days that he was in the hospital, Pastor Kim said. Police registered a case against the extremists, but no arrests have been made as the attackers absconded. Rather, on Oct. 20 Circle Inspector Davendra Prasad warned him not to lead worship again or else be subject to "dire consequences," Pastor Kim said.
The Global Council of Indian Christians (GCIC) reported that Pastor Kim also had been attacked three months earlier, in Bangarapet town in the same district, by the same group. The pastor reported that the extremists caught him on his motorbike, accused him of forceful conversion and beat him.
"The extremists asked me whether I was converting people to Christianity and told me never to preach about Jesus Christ again," he said.
Hindu extremists in Nagarajpura village, near Narisipura, on Nov. 2 forced four Christians from Zion Prayer Hall church to undergo a Hindu "ritual cleansing" and threatened to kill their pastor, the church leader said. Furious, the extremists had ordered the Christians to publicly renounce Christ and embrace Hinduism or else be ostracized and lose government benefits as members of the ethnic Bhovi community.
"When the Christians refused, they forcefully performed a Hindu "ceremonial cleansing" on them," said a pastor who goes by a single name, Annaiah.
The extremists took the four Christians to a Hindu temple, where they forcibly bathed them in water and told them to eat sacrificial meat. Area Christian leaders with the help of Moses Muragavel of the Karnataka Legal Aid Cell reported the incident to police, but officers refused to take action, sources said.
Later in the afternoon, the Hindu extremists marched toward the district collector's office shouting anti-Christian slogans, demanded Pastor Annaiah's arrest on accusations of forceful conversion and burned a likeness of him in effigy.
The next day (Nov. 3), the extremists summoned Bhovi community leaders and decided to kill Pastor Annaiah, he said.
"I came to know from some relatives who attended the meeting that the Hindu extremists have resolved to kill me and attack all the Christians in the village," he told Morning Star News.
About 200 extremists came to the village the following day and verbally abused the Christians. Pastor Annaiah and other Christians ran to a police station and filed a police complaint, and District Superintendent of Police Amit Singh gave police protection to them.
Previously, on Nov. 1, the Hindu nationalists had beaten the Christians for refusing to renounce Christ, the pastor said. Five Christians received hospital treatment. That night the extremists went to the hospital and threatened to kill the Christians if they refused to renounce Christ, Pastor Annaiah said. Area Christian leaders called police, who arrived and filed a case against seven Hindu extremists.
Hostilities against the pastor began last month. The extremists summoned him to a public meeting of the Bhovi community in Narisipura village on Oct. 28 and beat him.
"The extremists accused me of forceful conversion and told me that there is no other religion than Hinduism for the Bhovi community," he said. "They also said they want to wipe out Christianity from the village, and that I should 'reconvert' to Hinduism as person coming from the Bhovi tribe."
The pastor received hospital treatment for refusing to renounce Christ, area Christian leaders reported.
The Nagarajpura village attacks marked the second instance within a month of Hindu extremists in Karnataka threatening to kill Christians while hospitalized from prior assault.
Arresting the Victims
Hindu extremist groups feel that Christianity is a "foreign" faith that will endanger their caste-based religion, church leaders said.
Christians account for about 4 percent of Karnataka's population of 61.1 million people, according to Operation World, though officially the government puts the Christian population at 1.9 percent; Hindus make up 83.9 percent of the state's population, and Muslims 12.2 percent.
India's constitution provides for freedom of religion, and conversion is legal. Laws against forcible conversion in Karnataka and other states, however, provide the pretext for Hindu extremists backed by political power to attack; police commonly arrest the victims rather than the assailants, though to date not a single case of "forced conversion" has resulted in a guilty verdict, attorney Bethania said.
Forcible conversion was the pretext for an attack on Nov. 11 against pastor Abraham Koshy of the Indian Pentecostal Church in Kulshalanagar Town, Kodagu – after the same group attacked him on Oct. 28, resulting in the closure of the church for two consecutive Sundays.
"They slapped me with their hands several times and accused me of forceful conversion," Pastor Koshy told Morning Star News, adding that they also tore a Bible and broke windows and roof tiles.
He submitted a complaint to police and asked for protection, without success. Police did file a First Information Report on the Nov. 11 incident against five extremists, but no arrests were made.
In Chikkamatti, near Shimoga, Hindu extremists on Oct. 29 injured nine Christians with beatings by clubs and sticks, sending two to the hospital – but state police arrested two Christians. EFI reported that the arrests came after the extremists opposed the baptism of 40 tribal people on a Sunday morning at the Indian Apostolic Church. The extremists warned the Christians they would attack if they did not "return" to Hinduism – Hindu nationalist believe that all people are Hindu by virtue of being born in India, though many tribal people are raised in tribal religions.
The Christians said they would never give up their newfound faith in Christ. In the subsequent beating, two Christians identified only as Chinnawadu, 50, and Raggesh, 45, were admitted to Bhadravathi Government Hospital with serious wounds.
Later the same day, the extremists filed a police complaint against a pastor identified only as Prashanth and three church members for allegedly "forcefully converting" tribal people to Christianity. Police charged the Christians under Sections 295-A of the Indian Penal Code for "deliberate and malicious acts, intended to outrage religious feelings or any class by insulting its religion or religious beliefs."
Two Christians identified only as Santosh and Naveen were sent to Shimoga jail. Pastor Prashanth and another Christian went into hiding.
"Forcible conversion" was also among the factors cited for an attack in Davanagere District that put five Christians in the hospital on Oct. 27; police detained six Christians from Divine Healing Ministry Church after the assault by armed Hindu extremists led by Ramesh Kanade. Police filed a case against a pastor identified only as Rajasekar and his daughter Daisy, who went into hiding; when officers were unable to find them, they took the six church members into custody for three hours.
The Christians were released without charges.
Attorney Moses Muragavel of the Karnataka Legal Aid Cell told Morning Star News that Pastor Rajasekar and his daughter had applied for anticipatory bail and had relocated as a security precaution.
Such disruptions in everyday Christian life in Karnataka have increased since the BJP, parent organization of the Hindu extremist Rashtriya Swayamsevak Sangh, came into power in May 2008.
Karnataka led the nation in cases of violence and harassment against Christians last year with 49, according to EFI; with 56 cases in 2010; and with 48 in 2009. —New Delhi Correspondent, Morning Star News