By Mark Ellis —
He was a hard-living, death-defying biker from Wales on a road trip across America. When his brakes failed on a steep mountain curve, God's miraculous intervention changed his life forever.
"I was born on a kitchen table in Wales," says Reg Hyde. The midwife assisting his mother promptly dropped him on the floor, which his family viewed as an omen.
He sustained numerous physical beatings at the hand of his mother and extended "time-outs" locked in a closet naked. His says his father failed to intervene.
Later, he discovered he had a brother who died a few days after birth. "You're not the son we wanted," his mother coldly informed him.
Other traumas unfolded in his youth. Reg took a job at 15-years-old delivering groceries, but the grocer sexually assaulted him. The next year his best friend was stabbed to death by a rival gang.
When his mother attempted another beating for an unidentified indiscretion, he grabbed her and pinned her down by the throat. "If you lay another hand on me, I'll kill you," he said. She never touched him again.
He got fired from a job with an electrical wholesaler after he stole money from them. "I didn't know the difference between their money and mine," he confesses.
The Royal Air Force trained Reg as an electrician. He got married during his service with the RAF, but the relationship ended abruptly after his wife was arrested for prostitution. His relationships with women had always been rocky. "I spent most of my life beating the women I was with," he admits.
After he left the RAF, he joined a bike gang and became addicted to amphetamine sulfate. "I was a steady drug user," he says, "and also willing to use a knife."
Despondent about his life, he attempted suicide twice. A friend suggested counseling. "I had one year of psychological help," he says, "but it didn't help." When the counselors brought up the idea of reconciling with his mother he said,"If I saw her walking down the road I would drive over her."
Trained as an electrical engineer, the scientific bent to his mind confirmed a budding atheism. "I could prove to you God didn't exist," he recalls. Still, somewhere in the inner recesses of his soul he wanted to believe in something.
"Lord, prove to me you exist and I will believe in you," he said at several weak moments. But when he failed to hear or see any evidence for God, he shrunk back into unbelief.
In 1990, he wrote a poem to the devil published by the English magazine "Backstreet Heroes."
"I tried just about everything," he reports. "I believed in black magic and crystals. I was not a nice person."
He met and married a second wife, but again this ended in divorce after she tried to stab him and he beat her. Drugs and violence still ruled his life.
Bike trip across America
One day a biker friend named Paul announced a plan to travel across the U.S. to buy an Indian Motorcycle in Gilroy, California. Reg warmed immediately to the idea and the two spent the next six weeks riding across the U.S.
"We did 4700 miles in six weeks," Reg says. When they crossed from Nevada to California, they spent a morning fishing at Lake Tahoe, then rode up in the mountains surrounding the Alpine jewel.
As they descended from the mountains on a steep, windy road, an oil leak caused Reg's brakes to fail. "Every 200 yards there's a hairpin turn," he recalls. He couldn't downshift because of a problem with his gearbox.
"I burned out my front brakes and my back brake wasn't working," he says. His girlfriend was on the back of the bike, along with their luggage.
He sped past Paul, going faster and faster. "I saw the corner coming I would not get around." He prepared to bail out, which involves an attempt to push away from the bike as it goes down.
"When it hits, you don't want to be a sandwich," he says.
At a critical point in the turn, with the bike leaning over to a degree that it was impossible to keep from sliding out, he yelled to his girlfriend, "Bail!"
But then something very unusual happened. He couldn't let go of his handlebars. "It happened in two seconds but it felt like five minutes," he says.
Suddenly, defying speed and gravity, the bike mysteriously stood upright on its own, slowed down, and pulled into the only run-off on the mountain.
His friend Paul, with his girlfriend Annie on the back, pulled in behind them. "How did you stop it?" he shouted.
"I didn't," Reg replied, with a dazed expression on his face.  He knew he didn't stop the bike. Several witnesses said the impossible just happened.
"On that mountain God showed me I had lost control," Reg says. He suddenly recognized that God answered his earlier prayers in a dramatic, miraculous fashion.  "I should have died on that mountain. There was a steep drop-off."
"I went up that mountain an atheist. When I came off the mountain I believed."
When Reg went to get his motorcycle repaired, he let it be known he had nowhere to stay. The repairman, Dave, let him and his girlfriend stay at his home during the repairs.
As they sat on the veranda together and Reg told about the miracle that happened, Reg discovered that Dave and his wife were born again Christians.
Invitation to church
"Why don't you come to church with us?" Dave suggested.
The following Sunday, the pastor asked "Is there anybody here who wants to give their life to Christ?" Reg's hand shot up from the back of the church.
He went forward and told his story to the congregation. The pastor held him and prayed over him, then the tears began to fall.
"I'm a big hairy idiot of a biker and I don't cry very often," he recalls. "I felt like somebody poured hot water through me. The place that was empty inside me wasn't empty anymore."
After Reg returned to England, he didn't attend church for several years. "I had the internet, my Bible, and my absolute belief God existed that was unshakable."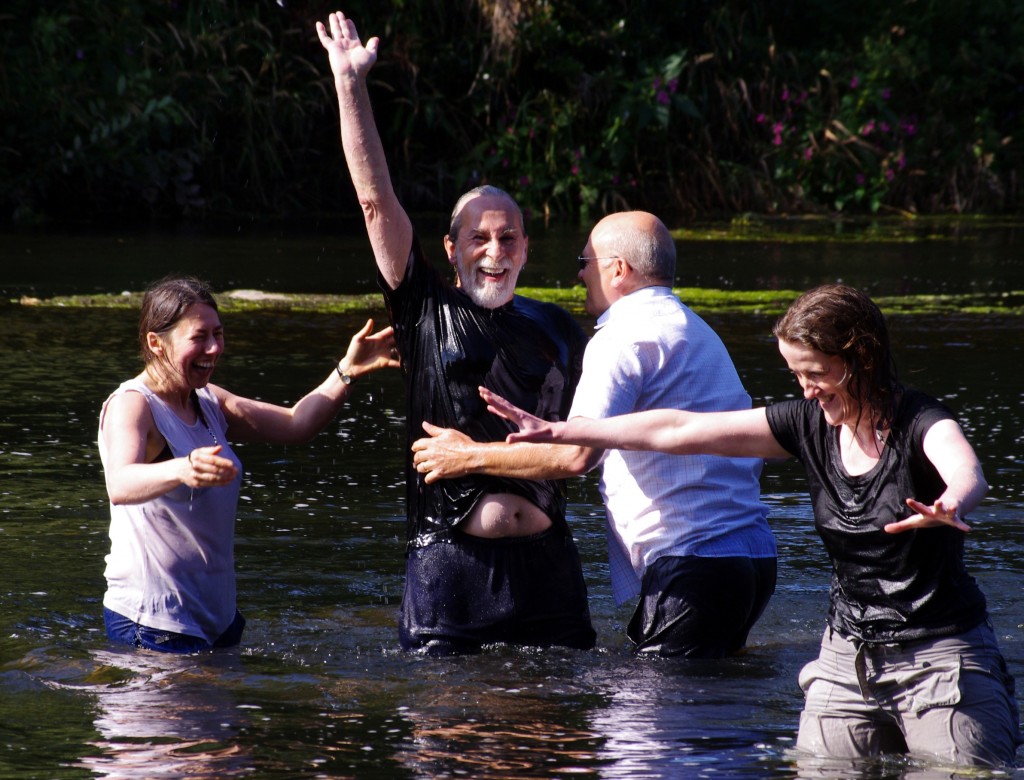 Reg met his third wife, Christine, on the internet. A strong Christian, she introduced him to Emmanuel Church in Durham, where they've attended the last several years.
When Reg was baptized in the Wear River in Durham in 2010, he changed his name. "I went in the water as Reg, and I came out as Christopher, newly born and newly created. From that day on my life has been utterly different."
Christopher and Christine – known as 'Chris & Kris at their church – sold off all their possessions and donated the proceeds to a boy's home in India.
They know God called them to India as missionaries after selling their worldly goods. Christopher is teaching English and computer science to young men. Christine teaches art as a way to encourage people to use health services in Udaipur, Rajasthan.
'It says in Matthew to give up everything and follow Jesus, and that's what we're doing."
Christopher has written a book about his journey, "A long and windy road," by C.R. Hyde. 
If you want to know more about a personal relationship with God, go here