Are alternative healing, yoga, mysticism right for Christians?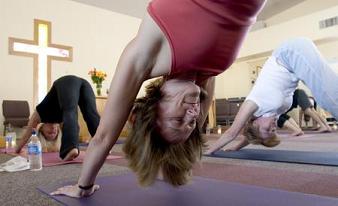 By Mark Ellis
Marcia Montenegro was deeply entrenched in the New Age movement, taught astrology, and headed the Atlanta Astrological Society. But a co-worker's prayers and an unexpected compulsion to attend church led her to Christ.
Now she's warning about unbiblical influences entering the church with eerie echoes from her past. "I was Buddhist and New Age, so I recognize the concepts right away," says Montenegro, founder of CANA/Christian Answers for the New Age. She is also the author of "SpellBound: The Paranormal Seduction of Today's Kids" (Cook, 2006).
One of her concerns relates to alternative healing, which involves medical practices outside the realm of conventional medicine. She sees Christians embrace alternative healing approaches after bad experiences with doctors or when they have lost hope in traditional medicine.
"The kind I'm concerned about is based on spiritual views and really doesn't have objective scientific or medical data to support it," she says. Montenegro cites acupuncture, homeopathy, and energy healing as examples.
Some practitioners use machines to detect and manipulate "chi," a supposed life force or energy flow that has its roots in Taoism, according to Montenegro.  A National Institutes of Health statement on acupuncture noted that concepts such as chi are difficult to reconcile with science. Generally, the existence of chi has been rejected by the scientific community.
Montenegro also sees many Christians get involved with yoga, including so-called "Christian yoga."
"Hatha yoga is a part of the Hindu spiritual path, a way of practicing Hindu beliefs and honoring the Hindu gods," she says. "It's a very esoteric and occultic practice."
She believes there are other options for believers. "There is no reason to do yoga," she says. "There are other things you can do to tone your body, exercise, and stretch. Why do Christians feel they have to do yoga?"
A third area of concern for Montenegro relates to the growing influence of mysticism among Christians. "This mysticism creeping in came from Catholics who were open to Buddhism," she notes. She also cites Richard Foster, a Quaker, and ideas coming from the Emergent Church movement.
The confluence of their influences have begun to redefine prayer, especially to encourage a form of "listening prayer" which seeks to empty the mind so practitioners may hear from God.
"When you try to do something to conjure up God, you've gone away from the Bible," Montenegro says. "If God wants to speak to us, do we have to do something special to hear it?" she asks.
She is aware of at least one prominent Christian leader who recommends Ken Wilber's book, "A Brief History of Everything."
"Wilber is one of the premiere Buddhist-based New Age philosophers," she notes.
In Wilber's "A Brief History" he writes, "And in the highest reaches of evolution, maybe, just maybe, an individual's consciousness does indeed touch infinity—a total embrace of the entire Kosmos—a Kosmic consciousness that is Spirit awakened to its own true nature. It's at least plausible."
"In the New Age you are always on a search because you never really find any answers," she notes. "It was clearly the Lord who intervened and drew me away from the false path."
Marcia's ministry is CANA/Christian Answers for the New Age, and she is a missionary with Fellowship International Mission, an independent mission board based in Allentown, PA. CANA is an informational and outreach ministry. She has been featured on various Christian media, and leads workshops and speaks at conferences, churches and retreats, and writes for Christian publications. Marcia is the author of "SpellBound: The Paranormal Seduction of Today's Kids" (Cook, 2006).