By Dan Wooding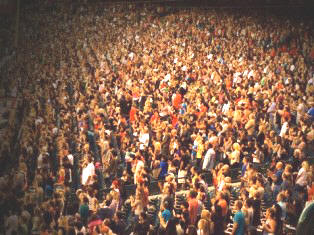 Total live Sunday attendance: 272,000
The figures are now in, and according to Pastor John Collins, Executive Director of Harvest Crusades, last Sunday's event in Anaheim, California, broke all records for a single presentation of the gospel in American history.
The annual Harvest outreach was attended by some 78,000 people over two nights, Aug. 25 – 26, and this year was capped by a Sunday evening broadcast called Harvest America, which was viewed live by people in 2,400 venues from California to the Carolinas.
Tens of thousands of Harvest America participants gathered at churches, auditoriums, parks, and theaters to watch the message of hope presented by Southern California pastor and evangelist Greg Laurie, made available via satellite and a live streaming webcast. More than 600 radio stations also carried the Harvest outreach live and nine television networks made the program available.
Collins, in a message to Harvest supporters laid out the figures for the record-breaking event, but first of all thanked everyone who participated, saying, "I wanted to thank you on behalf of all the crusade team for the prayer and hard work that went into last weekend. As you know, this was a huge step of faith that we all took together. I know many of you prayed fervently and diligently and we can now see the results.
"We have come up with some numbers that we feel are fairly accurate to gauge our total reach. Out of more than 2400 host sites that participated, over a 1,000 of those were churches, and others were neutral sites, hotel ballrooms, gymnasiums, homes, etc. We have had more than 480 who have reported back with their results."
Collins said that when they "extrapolated" the data (counting only about half for the sites that haven't reported), the totals they ended up with are these:
* 235,000 attended host venues on Sunday
* 37,000 attended at the stadium on Sunday
* Total live Sunday attendance: 272,000
Collins went on to say, "The response to the invitation totaled and little more than 18,000. That would make last Sunday the largest single presentation of the gospel in American history! Praise God!"
He added: "When we add our Saturday totals, it means that we reached 312,000 people in live attendance over the weekend, with more than 22,000 making professions of faith. When we add the internet viewing audience our total number of people who watched either live in person or on the web at over 400,000! These numbers don't reflect how many people – potentially in the millions – that also viewed or listened to the event live on television and radio.
"Now we focus on Dodger Stadium. Let's not let up. Keep on praying! Pray hard for the crusade, web, and media teams. They are working overtime to get us to the finish line. Let's keep our foot on the neck of the enemy as God is doing great things in our midst!"
The final 2012 Harvest Crusade event is scheduled for Dodger Stadium in Los Angeles on September 8 – 9. For more information, go to http://la.harvest.org/. — ASSIST News