By Jonathan Racho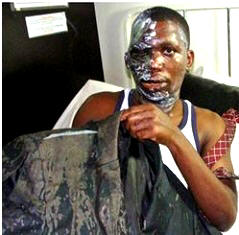 A Ugandan pastor, who was the victim of an acid attack by Muslims, told International Christian Concern (ICC) that he doesn't hate his Muslim attackers and wants them to believe in Jesus Christ.
"My message to my attackers is simple; I hold no grudge against them. They wished me death but I wish them life today and forever in Christ Jesus our Lord," said Pastor Umar Mulinde in his statement to ICC.

Pastor Mulinde was a Muslim leader before he converted to Christianity and started a church. He successfully brought many Muslims to Christ and openly opposed the call for Sharia law in Uganda. He was attacked on December 24 near his church in Uganda's capital of Kampala. He is currently receiving medical care in Israel.
In his message to Christians around the world, the pastor warned about the danger of radical Islam: "The vision of Islam is all about world dominance and no country should think to be safe from radical Islam."
He also asked Christians to respond to the plight of the persecuted church around the world. He said, "Christians around the world should support the millions of Christians who are seriously being persecuted because of their faith. This happens mainly in Middle East and now in Africa too."