Fourteen Iranians converted to Christianity on August 5 in the same church in Berlin. Fifty Iranian Christian converts attended the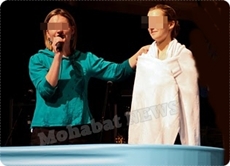 ceremony, in addition to fifty other German attendees.
One of the Iranian attendees, Farid Shad, told a reporter of Spiegel Online that although he had become a Christian in Iran, he had never attended a church there because of fear of the security authorities. He said, "We used to gather secretly in private homes to read the Bible or practice our faith. We were gathering there and worshiping."
A German pastor claims the reason for the tendency of Iranian youth towards Christianity is that they come from a religious country in which religion and politics are not divided. Many of them have suffered torture and violence conducted in the name of "Islam".
Every Sunday, a church in one of the neighborhoods in Berlin holds a baptism ceremony for Iranians who decide to convert to Christianity. Most of these Iranians are asylum seekers who have immigrated to Germany some years ago, according to Mohabat News..
Jorgen Shrek, the pastor of the German church is glad that Iranian asylum seekers are coming to this church. He says, "Before Iranian youth came to our church, only old people were attending the church to practice their religious rites. The situation, however, has changed after these Iranian youth converted to Christianity here."
The first Iranian who stepped into the church in Berlin was a translator called Nadi. After some time Nadi's friends also came to the church and attended the German-language classes held in the church to learn the language. Then, sister Rosemary, who usually conducts the baptism ceremonies, helped these Christian converts with their official tasks, their visits with their lawyers, going to doctor and other daily tasks.
Answering the question about whether these asylum seekers convert to Christianity only to receive a residency permit, she said, "Most of these young people are well-educated and had a house and a good life in Iran. It would not make sense to ignore all those advantages only to get residency permit in Germany."
The weekly schedule of these Christian converts is fixed. They attend theology classes, listen to sermons with the help of an interpreter and discuss the life of Christ.
For instance, 16 Iranians were baptized last Christmas. Most of them attend church every Sunday. One sings in the church choir while some others help with other church affairs.
Hans Jorgen Kotsner, is apastor of a protestant church in Germany and leads worship services in two languages, Persian and German, with about one thousand Iranians in attendance. His main task in the church is to assist Iranians with their affairs. Regarding the reason for the tendency towards Christianity among Iranian youth, he said, "They come from a religious country in which religion and politics are not divided. " He added that many of them have suffered torture and violence conducted in the name of "Islam". Anyone who experiences such dictatorship has a desire to get released from it.
As he says, there is a political message in the youth turning their back on Islam and converting to Christianity. The number of those willing to get baptized increased significantly after the controversial presidential election in 2009 in Iran and the wave of protests which followed. Pastor Kotsner notes that it is not a matter of people changing other people's religion and he also helps those who do not want to convert. What matters is humanity.
Today, many Iranian Christians gather in different cities in Europe and form house-churches in their cities. Their goal is to worship God and learn Christian theology as well. Earlier, a German-language daily paper published a report on the situation of newly converted Iranian Christians in Austria. The report said that there are five Christian associations in Vienna and most of them are formed by people who have found Jesus through Allah! — Mohabat News