By Michael Ireland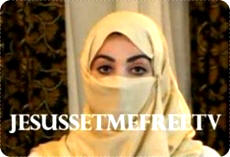 Last week a Saudi woman who introduced herself as "Maryam" announced in a video published on the internet that she has forsaken Islam and converted to Christianity, according to Mohabat News.
Apparently, she is the first Saudi-Arabian woman to publicly declare her faith in such a manner.
The new convert said in the published video that she hasn't removed her Hijab for fear of her life and to keep her identity unknown.
The publishing of the video on the internet angered Saudi officials and Muftis. They highly criticized the video and called urgently for necessary measures to stop Christian evangelism in Saudi Arabia.
They called for increased measures to deal with any evangelism in Saudi Arabia, the news agency reported.
In the short video, Maryam says: "I have quit the darkness of Wahhabi Islam and entered the light of Christianity. I dreamt that I needed to do this. Jesus Christ came to visit me in my dream and gave me the name of Maryam (Arabic pronunciation of Mary)."
She added, "The morality police's treatment caused me to not take fasting and prayer seriously and to eventually convert to Christianity."
Saudi Arabia, with a population of 26 million, is nearly one hundred percent Muslim. However, reports coming out of the country as well as other Arabic countries, indicate that Christianity is increasing in these countries, the news agency said.
The country imposes an extremely strict form of Sharia law. The official religion in Saudi Arabia is Wahhabi Islam which is an extreme version of Islam.
The country's monarchy claims that their constitution is based on the Quran and Sharia law. According to Sharia law, anyone who leaves Islam may be killed. Thus, most of those who have converted to another religion keep it secret. — ASSIST News