By Bill Sorrell —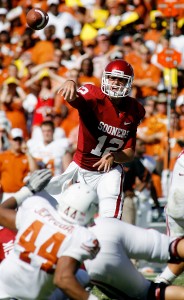 As Oklahoma quarterback Landry Jones ministered in an orphanage in Haiti a year after a catastrophic earthquake, there was a crushing blow closer to home.
His teammate, Oklahoma linebacker Austin Box, died in May 2011 at age 22 of pulmonary edema and aspiration pneumonia.
Jones spoke at a memorial service, telling teammates how precious life is and if they were unsure about Christ being in their lives, he would talk with them. Jones encouraged them to "get it straight" with God.
Team punter Tress Way watched as Jones affirmed his role as the Sooners' spiritual leader.
"Him doing that in front of the team meeting shows how big a factor Christ is in his life," said Way, who is also an evangelical Christian.
Jones says that he is a Christian who happens to play football, not a football player who is a Christian.
Returning for his senior season, Jones is four wins away from becoming the school's career leader in victories. His 29 wins leave him three behind Steve Davis' record 32 from 1973-75. Jones is the most experienced quarterback in OU history with 37 career starts.
He is the career leader in passing yards with 12,379, besting Heisman Trophy winners Jason White and Sam Bradford. He holds 13 school passing records, including completions with 1,021. In 2011 he averaged 343.3 yards of total offense per game.
With 93 career touchdowns, he broke Bradford's school record. And in 2010, he received the Sammy Baugh Trophy as the nation's best college passer. He has been mentioned among Heisman Trophy candidates.
But despite his superior success, there was a time when college was not "fun." During the first part of college he rebelled against God, he said.
"I believed in Him but I didn't follow Him," Jones said. "After the first year I got to the point I was so sad and depressed. If life is not fun, it is not worth it. I was an angry young man."
As he began to follow Christ, which he said began slowly, his lifestyle changed.
"Without Jesus, I don't think I would have made it at OU," he said. "I understand the deeper meaning of who Jesus is in my life. He is my source of happiness, a comfort in hard times and hope there is a better life. At the end of life you are going to heaven, and that is basically the only thing that matters."
Jones was 6 when he made a profession of faith and was baptized at First Baptist Church in his hometown of Artesia, N.M. His parents Kevin and Kellye Jones laid a spiritual foundation for Landry, who is named after Dallas Cowboys legendary coach Tom Landry.
"Christianity is about how you live your life," he said. "It's what kind of choices you make on weekends. It's the kind of choices you make with the girl you are dating, walking in purity or not. It's how you love people."
Way said love is what Jones exhibits most.
"He has the biggest heart of anybody I have ever met," Way said. "It's not so much how many people he cares about, it is how much he cares about people."
A potential first-round draft choice in the 2013 NFL draft, Jones has considered going into the ministry at some point. He has prayed about becoming a church planter.
"When we choose God and not worldly things and do something for Him, it fills you with joy," he said. — Baptist Press
Bill Sorrell is a freelance writer and pastor of First Baptist Church in Whiteville, Tenn. Get Baptist Press headlines and breaking news on Twitter (@BaptistPress), Facebook (Facebook.com/BaptistPress ) and in your email ( baptistpress.com/SubscribeBP.asp).