His spiritual journey
By Mark Ellis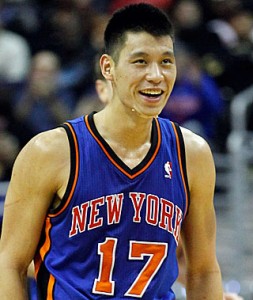 This faith-filled son of Taiwanese immigrants was given little chance in the NBA. Only weeks ago, he was sleeping on other people's couches as he struggled to make his start in New York. But after shutting down the Lakers' Kobe Bryant and leading the New York Knicks to six straight victories, many of his doubters now believe.
"This is a miracle from God," Lin says, about his improbable rise in basketball. "I don't think anybody expected this to happen."
On February 14th, the undefeated point guard had the greatest moment of his career by hitting a three-pointer with one second left as the Knicks overcame a 17-point deficit to defeat the Toronto Raptors, 90-87.
Much of Lin's meteoric rise is about the Lord's providence. "Anytime something like this happens, a lot of stuff has to be put into place, and a lot of it is out of my control," Lin said before the Toronto game. "If you look back at my story, it doesn't matter where you look, but God's fingerprints are all over the place."
"There have been a lot of things that had to happen that I couldn't control," he continued. "You can try to call it coincidence, but at the end of the day, there are 20, 30 things when you combine them all that had to happen at the right time in order for me to be here. That's why I call it a miracle."
Lin's parents are no taller than five feet six inches, so his six feet, three inches and 200 pounds are a marvel within the family. He received no offers for an athletic scholarship out of Palo Alto High School, even though he led his team to a state championship.
He aced the SAT test in math, which helped win him a place at Harvard, then became the first player in the history of the Ivy League to score 1,450 points.  Lin graduated with a degree in economics and a 3.1 average. No Harvard grad has played in the NBA since 1954, until now.
After he graduated, Lin went unselected in the NBA draft, but was picked up on a two-year contract by his home team, the Golden State Warriors. With the Bay Area's large Asian-American population, he attained a large following, even though he had little playing time and averaged only 2.6 points per game in his rookie season. Part of that season was spent on the Warrior's D-league team.
His D-league experience tested his walk with God. "When things weren't going well my first year, I found a way to lose hope, lose trust in God," he said, in a testimony recorded at River of Life Church in Santa Clara, California last June. "I tried to remind myself of my story and how I got there," he said.
A Scripture grabbed his heart at that crucial juncture in the D-leagues, 1st Corinthians 9: 24-25. "Do you not know that those who run in a race all run, but only one receives the prize? Run in such a way that you may win. 25 Everyone who competes in the games exercises self-control in all things. They then do it to receive a perishable wreath, but we an imperishable."
Lin realized he had been playing with the wrong motives. "The prize I was playing for at that time was a perishable wreath," he admitted. "I was playing for great games, great stats, getting the call to the Warriors, getting the next year of my contract, living up to everyone's expectations. I was playing for those things, for myself, and for my glory."
During this period of reflection, Lin's pastor urged him to spend an hour a day with God, something Lin never considered before but decided to try. As he studied the Scripture one day, Philippians 3:14 resonated: "I press on toward the goal for the prize of the upward call of God in Christ Jesus."
"The prize is the blessings and rewards we get when we get to heaven," Lin realized, "the eternal fellowship we can have with Jesus Christ."
Suddenly he recognized a new way to approach sports – and life. "Our true reward – something I learned I need to strive for – is in heaven, not on earth."
Lin also happened to be reading John Piper's book at the time, "Don't Waster your Life." Piper's quote, "God created us to live with a single passion to joyfully display his supreme excellence in all the spheres of life," also struck a chord.
"When Paul wrote in Philippians to press on for an upward prize, he was living for that, and it made his life meaningful," Lin observed. "And I realized I had to learn to do the same. I had to learn to stop chasing the perishable prizes of this earth, I had to stop chasing personal glory.
Win or lose, he knew he could rely on God. "I had to learn how to give my best effort to God and trust him with the results. I have to learn to have enough faith to trust in his grace and to trust in his sovereign and perfect plan. I had to submit my will, my desires, my dreams — give it all up to God and say, "Look, I am going to give my best effort, go on the court and play every day for you, and I'm going to let you take care of the rest."
Lin admitted this is not easy – it's still a daily struggle. "Playing for great stats is nice, but that satisfaction — that happiness — is only from game to game. It's very temporary."
Both the Warriors and the Houston Rockets cut Lin from their rosters in 2011 to make way for other players they considered more talented, a blow to Lin's pride, but he kept trusting God.
The New York Knicks picked up Lin on December 27 as a third-string backup after an injury to guard Iman Shumpert. Then they bounced him down to the D-league Erie BayHawks, but he surprised everyone on January 20th by scoring a triple-double with 28 points, 11 rebounds, and 12 assists in the BayHawks' 122–113 victory over the Maine Red Claws.
Three days later, he got the call from the Knicks to rejoin the A-team. Due to an injury and the fact that the team had been playing poorly, Coach Mike D'Antoni decided to give Lin a chance. On February 4th, Lin scored 25 points, made five rebounds, and seven assists in a 99–92 Knicks win over the New Jersey Nets.
In the next game, his first career start, he scored 28 points against the Utah Jazz. Then he scored his first double-double against the Washington Wizards, with 23 points and 10 assists. Still, he was regularly stopped by the Knicks' security people who wondered if he was a team trainer.
On February 10th, he shocked the basketball world by scoring a career-high 38 points as he led his team to a 92-85 victory over the Los Angeles Lakers. He outscored Lakers star Kobe Bryant, who had 34 points.
Bryant appeared somewhat stunned after the game. "Players playing that well don't usually come out of nowhere," he remarked. "It seems like they come out of nowhere, but if you can go back and take a look, his skill level was probably there from the beginning. It probably just went unnoticed."
"Linsanity" began to grip New York, as the Knicks hustled to sell copies of Lin's No. 17 jerseys and t-shirts. Sales on their online store increased more than 3,000% and Lin's jersey has been the bestseller in the NBA since February 4th.
Lin would like to be a pastor some day or head a non-profit organizations, at home or overseas.
"Your talent and your ability to play basketball is a gift from God," Lin said. "You have to use that for God's glory."
Do you want to know God personally? Go here