By Mark Ellis
Imagine packing 500 hours of Bible college training on a $13 chip that plays from a cell phone. Add speakers to the cell phone for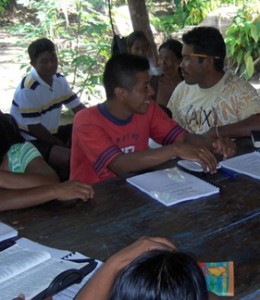 only $20 and a group of pastors can be trained in places far-removed or unreachable by conventional means. 
"I don't need a visa to get into these countries," says John Edmiston, founder of Cybermissions. (www.cybermissions.org)  "We tunnel in and then we blast away." 
Edmiston started Cybermissions in 2001 to serve the church in Southeast Asia, especially pastors who had no training. Now their reach is global, with more than a million people each year making use of training materials they provide. 
Through one of their contacts in Bhutan – a country governed by a Buddhist-dominated monarchy hostile to the Gospel, Cybermissions materials are training dozens of pastors. "We're reaching underground Christians," Edmiston notes. "Through one man we've reached Bhutan." 
A retired businessman based in Australia has used their program to start 100 Bible colleges in the Amazon River basin. "Pastor Jose" Keegan started developing a rapport with Latin American pastors via the internet in 2002. Now he oversees pastors throughout the Spanish-speaking world, who lead training groups ranging in size from 15 to 70 people. 
"We don't teach Hebrew and Greek, but the quality is on a par with Bible colleges in the U.S.," Edmiston says. Harvestime International Network developed their college materials, which consist of 21 modules. Each module is between 150 to 300 pages long, with a "fill-in-the-blank" style commonly used in Theological Education by Extension. 
Pastor Jose – originally from Argentina – has seen 14,000 people take the Harvestime courses in the last nine years. Initially, he talked up the courses using internet forums, but now he uses Skype, Facebook and any other available technology to guide the Spanish-speaking pastors he oversees. 
Some of the pastors using the materials are deep in the jungle working with aboriginal people. "The aboriginal people don't speak Spanish at all," Pastor Jose notes. "The pastors teach them Spanish, then they teach them the courses." 
"We're reaching every country in Latin America," Edmiston says. The multiplier effect of the ministry is powerful, with 39,000 unique visitors to their website each month sharing the materials with others.
Through their www.GlobalChristians.org website, 3-4 people a day are receiving Christ. Email correspondence from seekers, new believers and itinerant pastors pours into their office from disparate parts of the world. "I am Hindu, but I want to convert to Christian. Please help me," writes Ramesh from Oman.
A starter kit developed by Edmiston helps launch new believers on a growth path. He would like to find additional volunteers to interface with these new Christians as "cyber-shepherds," following their progress as they mature in Christ.
Pastor Vincent Hisona, leading a flock among the urban poor in Cavite, Philippines writes, "Your material really touches my heart because it is easy to follow and simple but powerful, with sound doctrine of the Bible."
"There are not enough people training pastors in the developing world," Edmiston notes. "My heart is for the theologically poor and those who are disabled and can't get out to a church. I don't want to replace the local church, however."
Edmiston has also developed a program that teaches missionaries to run internet cafes as a small business and ministry platform. "We've established internet cafes in Muslim areas of the Philippines and Indonesia," he says, with others on the way in restricted countries.
"Internet cafes are great ministry platforms as they allow you to meet people when they come in to check their email," he notes. "They can provide a source of financial support for a church-planting team."  Internet cafes cost about $5000 to set up and a well-run internet cafe can support 2-3 indigenous missionaries, according to Edmiston.
"It's a small business that shares the gospel," he adds. "It is being extensively copied as a model." Edmiston has also developed safeguards to deal with the phenomenon of Muslims pretending to be Christians.
One of the most frequently downloaded articles on his the website deals with the subject of breaking curses. "There are a lot of people affected by curses in the developing world," Edmiston says. "They are looking for answers and we help them." Edmiston developed all the teaching materials dealing with spiritual warfare.
While many mission organizations fill their websites with video, Edmiston takes a different approach. "The people we serve don't have much bandwidth," he notes. "That's why I have so little video on our website."
"I want to reach people in the last mile of the frontiers."