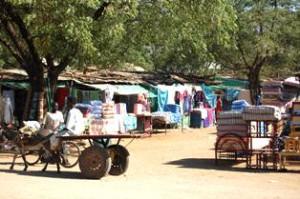 By Gabriel J. Waddell
In 2005, Sudan ended a decades-long civil war with the signing of the Comprehensive Peace Agreement by representatives of the primarily Muslim north and the largely Christian and animist south.
  
As a part of this agreement, early 2011 was designated as the date that the residents of southern Sudan would vote on remaining unified with the north or seceding and forming an independent nation.
In January, 2011 the citizens of southern Sudan voted overwhelmingly to secede from the northern Sudanese regime, and the result has been to plunge the country back into turmoil as the north and south struggle to maintain power over oil-rich and strategically important disputed borders.
The Christians have been forced to bear the brunt of the violence. The state of South Kordofan is right on the disputed border, and the capital city of Kadugli has been razed.
A pastor in Kadugli provides the following narrative:
"I write to inform you, friends and partners, that a fight between SPLA and government Army has erupted since last Sunday, and as a result of air bombardment, shelling and looting the town now is in ruin. Civilians are evacuated to a place outside the town, but even there they are not safe and we are informed that some people were picked by armed people and killed. Most of the houses are demolished and looted and many civilian are killed. All churches are either burned or looted. The situation is escalating.
"The situation in Nuba Mountains is beyond imagination, almost all the buildings in the town were destroyed, and all the churches in the town in Kadugli are either burned or looted. My house was looted, and all my belonging were taken away. fortunately enough I was [not in town when the fighting started]. Continue to pray with us for the humanitarian needs of the civilians who are now in the open without basic human necessities."
This situation could easily get far worse before it gets better, and these Christians need our prayers.
 ——————————————————————————–
Gabriel J. Waddell has had the privilege of meeting and ministering to persecuted Christians throughout Asia, Africa, and the Middle East, including two trips to the city of Kadugli. He sits on the Board of Directors of Remember (www.RememberThose.org), an international non-profit dedicated to meeting the needs of widows and orphans of Christian martyrs. Gabriel is an attorney specializing in bankruptcy and debt relief issues, and lives with his wife in Fresno, California. He can be contact by e-mail at [email protected]