By Jay Grant —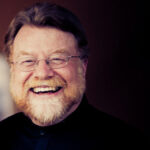 This week my prayer letter to you focuses on one monumental report. Sit back and be amazed… In mid-May, I wrote down this pressing need in my prayer letter: "Debbie V, (a friend of someone in our church), is 20 months pregnant but having extreme difficulties as fluids are in the brain of the child. Please pray for a healthy baby to be born."
Here now is the latest report on the unborn child as written by the father…
"Thank you for your support and prayers for us and baby over the past several weeks. Today we cried many tears as a result of our ultrasound appointment. Here's why: We went in today to the high risk lab and were escorted by a man with a somber look and compassionate eyes into the ultrasound room. He couldn't have been kinder. He introduced himself as Ron, the lead technician, and said he would be performing the ultrasound today.
He explained that he was going to be taking some measurements and then would be looking at the brain where the defect is in order to see how and if things have progressed. He treated us to some great video and photos of our baby in 4D which was quite amazing. He commented on how much the baby was posing for him and how strong the baby was for only 24 weeks. We felt very bonded with our baby. He spent some time on the brain, though not a lot, and mentioned that here is the "Sternum Magnum"; the area where they were concerned about the defect.
After about what I would guess was 45 minutes or so, he went out to grab the high risk specialist Dr. – (actually the one who properly identified why Deb had a 105.9 temperature after giving birth to Braylon – but that is another story altogether). After some recap of that adventure, she began to perform here own ultrasound and ultimately said that "Looking at the chart and reports from the last ultrasound, I was pretty concerned, but now I don't see anything wrong whatsoever. This baby is totally healthy and I can't see anything wrong with the brain."
It was surreal and we were in complete awe for the rest of the afternoon. I confirmed with Ron, who is the premier technician for the office and has been doing this for 30 years, and he smiled and simply said "The results of this ultrasound are totally normal". This was not supposed to be one of the options. It was clear from our 20 week appointment that the defect was there and we were coming back a month later to see how or if the defect has grown. This would then determine where on the wide continuum of symptoms we fell.
Amazing. God is SO GOOD! But that wasn't my primary reason for the tears. When we first heard the news about our baby's brain defect, it came in the midst of some pretty heavy decision stuff for me career wise. Three pieces of significant news came in the time span of two days. The weekend after that, I t
ook a few hours to be alone and pray. I hiked a short distance, laid on a giant boulder overlooking a valley, and just prayed. What I expected to be a long and arduous time of thought and prayer, wrought with wrestling and uncertainty, was surprisingly light. There was an easy peace about it. My problems became small and God said to me "Your baby is healed."
I literally responded "That's it?"
"Yes. Your baby is healed."
"But, how do I know this is you?"
"Because you've walked with me for a long time, and you know my voice"
"So that's it?"
"Yes"
"Well, OK then." Perplexed, I simply got up and went home. Relieved, amazed, and quite frankly with the same kind of feeling that I used to get when I planned to watch a long, epic, and rugged heavyweight boxing match, only to have Mike Tyson knock some dude out in the first round. It was too easy. It couldn't have been that easy.
"For my yoke is easy and my burden is light" For the last 5 weeks, I've mostly rested in the simple message from my God, though often wondering if I imagined it, or if it was real, if I misunderstood, misheard, or a myriad of other reasons why that couldn't have been true.
It was true. My confidence in my God allowed me to share the news with 2 close friends in the days after that encounter with God in which my heavy burden was like I asked him for a quarter and he said 'sure' in passing. My lack of faith limited my sharing to only that small circle. As Deb and I walked out of the Ultrasound and both looked at each other with joyful and watery eyes, I told her "I need to tell you a story."
It took me at least 5 minutes to get it out of my mouth from the tears that flowed pretty good from a guy who doesn't often cry. They flowed because of the joy of a healthy baby. They flowed because God answers prayers. They flowed because God listened and spoke to me. Who am I? Our God is SO FAITHFUL. Our God is SO GOOD. We found out today that God had shared the same message with Jen, a good friend and wife of our pastor, a few days after He shared His promise with me as our 'life' group was praying for us and our baby.
We are so thankful for a God who listens. We are so thankful for each of you who have been faithful and kind in your prayers for us. Quite simply, we're overwhelmed and at peace all at once. We're amazed and can't wait to see what God is going to do next."
This is why we pray. This is why I write this weekly letter Miracles do not always come when we pray but they do sometimes. Keep praying everyone. No telling what God is going to do next. Love you all so much in Christ.
Jay Grant is Pastor of Prayer and Shepherding at Networks Church in Laguna Beach, California