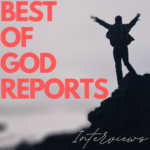 It was a blustery Saturday along the coast of Maine, with whitecaps forming to the horizon's edge. Jane Dobson received some jolting news that morning, October 2, 2010. A close friend in Wisconsin had passed away the night before.
"She was a beloved sister in Christ, a very dear friend of mine," Jane notes. "Her husband got up and thought she was asleep, but suddenly he realized she wasn't breathing." Her friend Kathleen died from a massive, unexpected heart attack at age 67.
Jane began to grieve for her friend. The Dobson house was full of weekend guests – their kids and old family friends, which made it more difficult for Jane to find time alone with God. Before she received the bad news about her friend, she had been praying that Jesus would reveal Himself in new ways to her house-guests.
"The wind was blowing so hard I couldn't open my windows even an inch," Jane recalls. But then suddenly, about 2:00 p.m., the wind stopped. "It went from big white caps to flat calm – like a mill pond," she notes. "That usually doesn't happen in October in Maine."
Due to the favorable weather change, Jane's husband, Bill, suggested they go for a ride on their boat. Everyone quickly agreed and the group of 10 piled into the Dobson's 36-foot Hinckley picnic boat, "Lady Jane," and set out along the coast of Maine.
Jane continued to grieve on the boat. "Everybody left me alone because I was so sad," she notes. Jane, a retired nurse with an active prayer ministry, offered praise for Kathleen's life and asked Jesus to send comfort.
After an hour on the vessel, Jane felt a noticeable change in the atmosphere. As their boat rounded a bend close to Owl's Head State Park's majestic lighthouse, something unusual happened.