By Mark Ellis –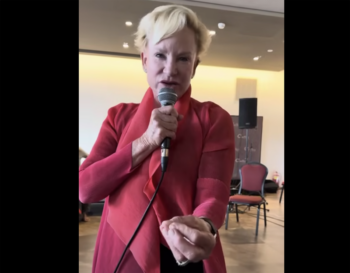 On a mission trip to Israel, noted speaker and mission leader Heidi Baker felt compelled to issue an emergency 911 warning on the day before Israel was attacked.
Baker, who leads Iris Global with her husband, Rolland, issued the 911 warning to Chris Mitchell at CBN just hours before the Hamas terror spree.
Following the attack, after spending time in and out of bomb shelters, Baker stood on the Mount of Olives with Robert Stearns of the Eagles Nest on a video posted to YouTube. "He's been speaking to us very clearly about this 911," she told Stearns. "It is an emergency time, tell the church, 'Wake up Sleeping Beauty.'"
Baker and others involved in her ministry believe that Israel is like a clock for the whole world. "The whole world's about to shake. Jerusalem, Israel, is the clock."
"The day before the war started, we were all together in a prayer house, just praying and seeking the Lord with some of our believing Jewish friends, some of our Arab friends. And then I was with Chris (Mitchell) and it was 911-911."
"It was the day before, as we waited for the Sabbath. It was supposed to be the most joyous day in the Jewish calendar. That's the day that the enemy chose to break through. And just hours before the cry of the spirit comes…911-911."
Heidi and her team witnessed firsthand the missile attack. "We've been in a war zone. We watched missiles explode; thank God for the (Iron) Dome. Thank God for the Dome, we've watched missiles explode. We've been in bomb shelters. This is no joke. This is a real, people.
"We've literally been camping in the word on this. We've just been undone. And I knew something was up. I felt it in my spirit, it was like this ugggh."
After being interviewed on the Mount of Olives the day after the attack with Robert Stearns, later in the day she and Stearns went to meet with Chris Mitchell at CBN.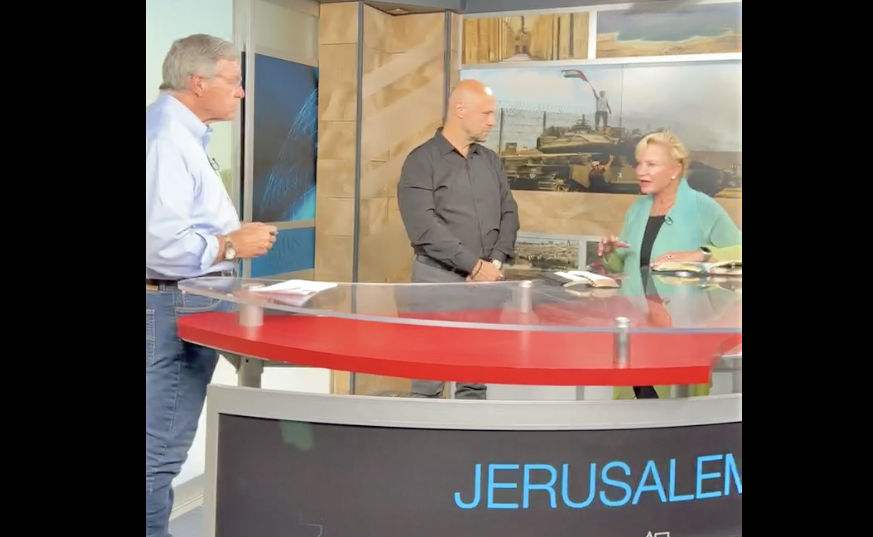 Stearns founded Eagles' Wings Ministries located in Clarence, New York and currently pastors the historic Tabernacle Church in Orchard Park, New York. Stearns is also the leader and co-founder of the annual Day of Prayer for the Peace of Jerusalem.
In the 48 hours that elapsed between her initial meeting with Mitchell and their second meeting, the world had changed.
"What we're seeing right now in Israel is a shaking that the world is about to see in greater measure," she told Mitchell.
Baker says believers must bring God's peace – shalom – no matter what circumstances they find themselves in. "The word shalom is way bigger than just peace," she contends. "It's nothing missing, nothing broken. nothing lacking. It is also the absence of chaos.
"We can bring shalom in a bomb shelter, shalom in a cyclone, shalom in a war. We bring shalom in no matter what."
Baker and her team donated blood because so many have been injured in the brutal attack.
"We need to pray for both sides," she said. "There are many innocents over there among the Palestinians who have nothing to do with this war. They hate it. They don't want it. We need to pray that they get to safety."
In Baker and Stearns' interview with Chris Mitchell, they both spoke against replacement theology, a doctrine which which holds that the church has superseded the nation of Israel, assuming their role as God's covenant people, that the church has replaced ancient Israel as God's true Israel and that Christians have replaced the biological bloodline of ancient Israelites as the people of God.
"If you've been a part of replacement theology, that God is done with the Jews, it's all about the church, there is a day of reckoning coming, and it's time to get into alignment, like Heidi said, to wake up to this reality," Stearns said.
"There are twin threats that face the Judeo-Christian world right now: radical Islam…and radical, militant humanism, which is rampant on university campuses around the world."
https://www.youtube.com/watch?v=xq1YbNC1-KI
https://www.facebook.com/watch/live/?ref=watch_permalink&v=287652110845062