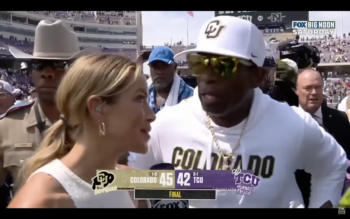 By Steve Rees —
"Coach Prime" Deion Sanders, who is passionate for Jesus, glorified the Lord following the University of Colorado Buffaloes' upset victory over 17th-ranked Texas Christian University (TCU) on college football's opening day. It is Coach Prime's first year leading CU.
TCU was the runner-up last year for the national championship and were 20-point favorites to beat CU. The fact that the Buffaloes won on the road, which is even more impressive, rocketed them upward in the national polls, moving to #22 in the AP poll.
Coach Prime's spiritual influence was evident before the game began, with more than 30 players bending their knees in prayer in the end zone.
"Thank you Jesus!" Coach Prime exclaimed to Fox Sports immediately after the win. "I'm so thankful right now. I love my son (Shedeur); I'm loving these kids right now…This is a blessing. God, this is good…God bless you America; God is good!"
Shedeur Sanders, the starting quarterback for the team, threw for a school-record 510 yards in his debut game.
In the press room afterward, Sanders continued to offer unabashed praise to God. "First and foremost Lord, I thank you for giving me strength and energy," Sanders told the sports writers after the improbable win.
The former Dallas Cowboys Hall of Famer – after acknowledging God – repeatedly asked media members, "Do you believe?"
Part of Sanders unconventional strategy was to recruit transfers to rebuild the team, which only won one game last year.  He made extensive use of the transfer portal – especially from historically black colleges and universities (HBCU), including two of his sons.
"A wonderful game and beginning – intriguing, passionate, purposeful," the winning coach – first at Jackson State and now in Boulder – said after congratulating  his sons in the visiting team's locker room.
Coach Prime's spiritual influence is not without some pushback. Like a previous head football coach at CU, Bill McCartney, leader of the national Christian men's movement Promise Keepers, Sanders is surrounded by spiritual warfare from anti-God forces that are as intense as the battle on the gridiron.
An atheist group, the Freedom from Religion Foundation, sent a letter to University of Colorado officials after Sanders arrived in Boulder to start his new job, stating "constitutional concerns" with the coach's faith and influence on football players.
In response, a Christian legal advocacy group threw a penalty flag of its own. First Liberty Institute stepped up to defend Coach Prime's religious speech, specifically his praise and glory to God after accepting CU's offer of employment.
Sanders has been criticized for inviting staff members and coaches to pray before team meetings.
"Our attorneys point out that FFRF's warnings rely on an outdated legal test the Supreme Court disavowed in our Coach Kennedy case, Kennedy v. Bremerton. The Court's precedent in Kennedy made clear that public school employees may engage in religious expression and exercise," according to First Liberty.
Colorado was originally picked to finish 11th in the Pac-12, but will now be a contender for the top prize.
Reading team stats from his debut as CU coach, Sanders noted some disappointments on defense but, offensively, he pointed to 100-yard performances by four Buffalo receivers and his son Shedeur's record-breaking performance.
Taking questions from reporters, Sanders was eager to celebrate with players and his sons, including Deion Sanders Jr.
A 14-year veteran of the NFL and a high-level player in college, Sanders' football coaching career began with kids ages seven and up in Fort Worth, where the game was played against TCU.
One of those players, Dylan Edwards, whom Sanders has praised from the age of 4, played phenomenally despite an ankle injury. "I'm like, no, God wouldn't have brought you this far for that. Watch what tremendous impact you're going to have in this game," Sanders told Edwards.
"Prime's" refrain "Do you believe?" is a response to media and critics who say he's undertaking unproven, never-before-done moves.
"When you see a confident black man sitting up there up there talking his talk and walking his walk coaching 75 percent African Americans in the locker room, that's kind of threatening," said Sanders, who nevertheless believes he's got a couple candidates for college football's highest honor, the Heisman Trophy.
"They don't like that but guess what? We're going to do consistently what we do because I'm here, and I'm not going anywhere. I'm about to get comfortable in a minute," said Sanders.
His players and fans are starting to believe, said Sanders, because he's leading a winning team and staff evidenced by the Buff's amazing first victory.
Before and after the game, Sanders' Dallas Cowboys and Hall of Fame teammates voiced belief in their friend, a proven coach and man of God. Michael Irvin, a close confidant and brother in Jesus, rejoiced with Sanders after the victory, along with another Cowboys' offensive powerhouse.
"Didn't I tell y'all God and Deion is about to deliver their greatest MASTERPIECE!!! mama there goes that MAN, he did it AGAIN!!!!!!! So PROUD of my great friend!" Irvin said.
Related: Football great Deion Sanders went from 'the enemy's team' to God's team
             Deion Sanders gushes about God in CU coaching debut