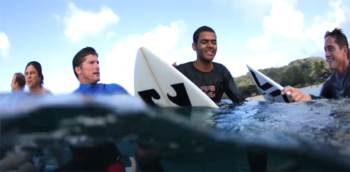 By Clara Grace Czer –
Derek Rabelo wanted to surf one of the most exciting and dangerous waves on the planet: Pipeline, on Oahu's legendary North Shore. The only problem was he was blind.
"When you've been surfing for 30 years and you know what you're doing and you can see, you can die" at Pipeline, according to Laird Hamilton, a pioneer of big wave surfing.
But Derek, who was born with congenital glaucoma that rendered him blind, wanted to surf, despite not being able to see. He believed his faith in God would carry him where others failed.
"Humble yourself and ask God for help in the challenges," Derek told a church audience on a Grove Baptist Church video, explaining his undaunted determination to surf Pipeline.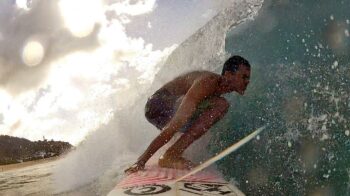 Three surgeries failed to give Derek sight from his congenital glaucoma. Born to a surfer in Guarapari, Brazil, Derek had trouble enough making his way through school, where he was bullied, and getting around the city by himself. Life by itself was already a formidable challenge. Why try the impossible?
But Derek felt a strange magnetism in the ocean next to which his town was built. The feeling of the sand and water, the warmth of the sun, the pounding sound of the waves exerted a sort of mystical gravity.
"I lived near the beach, and I was obsessed with the sound of the waves. I could hear the waves from my bedroom window," he said on a Jeunesse VIP Leader video. "I had the dream to surf. I wanted to surf more than anything."
A local surf school coach agreed to help him learn, but his parents felt some serious misgivings.
"On a beautiful day, Derek came to me and told me he was going to surf," his mother, Lia Nascimiento, says. "I said, 'No, Derek, no. Are you crazy? How?"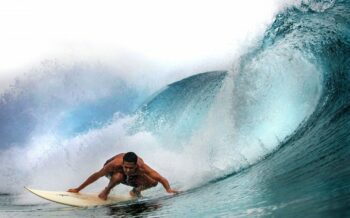 "Don't worry, mom," Derek responded. "Be cool. Relax."
Derek had already signed himself up for the surfing class.
Ernesto Rabelo, his father who named him after famous Hawaiian surf champion Derek Ho, shared his mother's concern but kept quiet.
"I didn't like the idea" of him surfing," Ernesto says. "But I didn't interfere."
The local surf instructor, Fabio "Maru" Castor, was the only one on board. He devised a system by which Derek could pay attention to the sound of the water and feel the movement of the water to calculate when to start, when to drop and when to cut.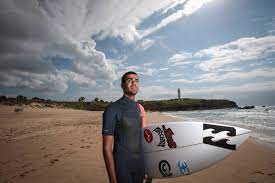 "I listen to the ocean and feel it," Derek said. "And every single part of a wave makes different noises. So, I can decide which side of the wave I should surf towards. If you have a dream, you have to believe in yourself. Otherwise, you cannot do it. I believe all of us have strong senses given by God. Use them with passion and perseverance."
Initially, Derek struggled with the bigger waves and grew discouraged, even to the point of wanting to quit. But he persevered and eventually gained a footing with 8-foot waves.
But could he dare to dream of the massive hollow tubes that break like thunder at the North Shore? He trained intensely for three years. Naysayers abounded. The infamous North Shore broke surfboards and surfer bodies of the best seeing-eyed surfers.
"Pipeline is one the most challenging spots in the world," says three-time world champion Tom Curren.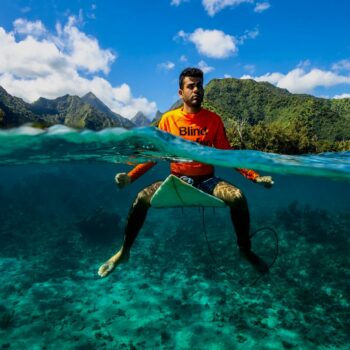 "It's hard enough to surf it with eyes," agrees pro Rob Machado.
Derek remembered one thing: He had overcome everything in life – getting teased or beat up at school, having doors closed to him – through his determination and his faith in God. Surfing mammoth waves would be no different.
His mother was a woman of prayer. His father, owner of a surf shop, had prayed his son might become a pro surfer (and felt intense disappointment when his son was born blind).
"When someone tells me I can't do something I use it as encouragement," Derek remarks.
His boogie board surfing friend took him to Hawaii where Derek quickly made friends and won the admiration of local and international surfers.
"Once I was taking off on the wave, I felt something huge: guidance from God driving me through the wave," he says on Wellbeing Australia. "I felt there was a party inside my heart … pumping … feeling so blessed."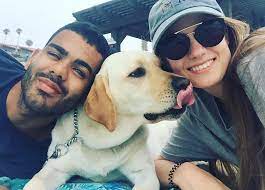 His exploits at Pipeline were captured in the YouTube video "Beyond Sight" that garnered 15 million views and catapulted him to international fame.
Derek entered one end of the Pipeline and exited into a life of adventure and inspiration. Born into poverty, he found a way to make a living as an inspirational speaker. Today, Derek, 30, is married to German girl named Madeline who met him in Australia while she studied at Bible college and he surfed.
Since surfing Pipeline, Derek has continued with "tsunami-like" waves in Portugal — 50 footers.
"When you are blind you face immediate physical darkness…will you take the step of faith and believe the love of God will be your eyes…will you choose joy and a good day? When it's His will we will feel it."
If you want to know more about a personal relationship with God, go here
Clara Grace studies at the Lighthouse Christian Academy near Westwood, Los Angeles.