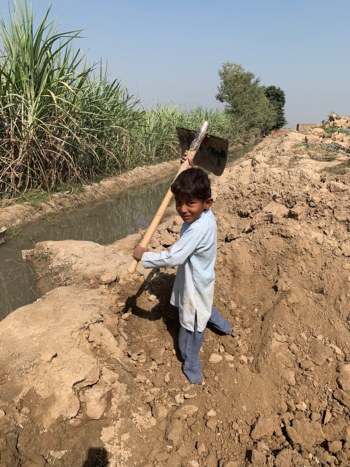 By Michael Ashcraft –
FAISALABAD, PAKISTAN – From the desperate clay fields where he could make 1,000 bricks a day for $10, Sarfraz Anwar Masih dreamed of bigger things. He wanted to reach Punjabis for Jesus.
Today, that dream is coming to pass. When you see his Christian schools, it's hard to fathom that Sarfraz Anwar and his son, Umar, once worked side by side grabbing balls of moist earth, covering them with dry dust, and rolled them into loaves to be stuffed into a mold to form a single brick.
It's a grueling job that seems only for Christians. Because they are a religious minority representing a mere 2% of the population, Christians face job discrimination and mostly can find only menial work that nobody else wants and that will keep them poor forever. They also work as trash collectors and sewer cleaners. The girls get jobs as domestic workers. Because of the extreme poverty, even children are obligated to work in the brickyards.
But the dead-end job and the dead-end life couldn't hold down Anwar. His vision to found a new denomination in Pakistan, and his never-flagging faith to pursue, led him to quit the brickfields and work double shifts as a security guard to found a school and pay the teachers.
In what little free time he had outside of work, he shared the gospel door to door and pedaled his bicycle to the brickfields to evangelize the lost. He launched a church, first in his house, and then rented a building.
After decades, he is beginning to see the fruits of his sacrifice.
"We started this small. Now we have great churches in different parts," says Pastor Sarfraz, one of his sons. "We feel that God blesses us because God wants us to do work for him for his glory. God chose my father for the kingdom of God and for winning souls."
Among the men, only Sarfraz (they refer to Dad as Anwar) speaks English. His father, Pastor Anwar, and brother, Pastor Umar, can only communicate in Urdu. On a recent ministerial visit to the Punjab, translators were hard to come by and a lot of communication was done with smiles and gestures. Confusions abounded.
A crusade was held in a football field-sized banquet hall with an estimated 3,000 in attendance. Buses were rented to bring Christians from many area churches. During four nights, blaring worship music was played, the gospel was preached (that's when a translator was available), and the sick were prayed for.
A security detail was provided by local police, who wanted to intimidate any extremists who might target Christians. In 2015, extremists bombed two churches in nearby Lahore. Just two years earlier in India's side of the Punjab, gunmen targeting a church killed one worshiper and injured three others.
So the local authorities assigned a police detail of burly elite police that escorted the team, controlled perimeters and even stood on the stage. This reporter was one of three pastors and a rising disciple to participate in the events as special guests, guarded by 10 cops with AK-47s and other weapons.
Anwar got his start 27 years ago when he attended a pastor's conference. Actually, he was working as a security guard at the conference, but he listened intently to the faith-stirring messages and challenges to renounce all and serve God completely.
He wanted to offer free education to young Christian boys and girls, who otherwise might be condemned to work in the brickfields. According to a government survey in 2017, 127,000 minors worked in the brickfields and couldn't attend school. Child labor laws are almost universally ignored in Pakistan.
"My father is so kind to the people who are poor," says Sarfraz, 29. "He was a very hard worker and paid the teachers."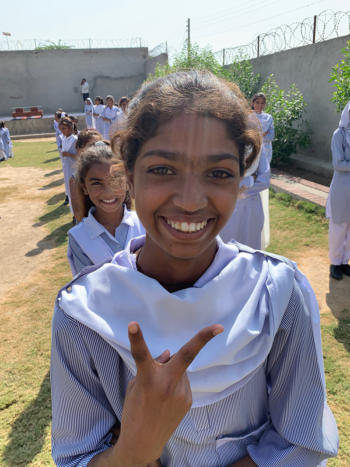 A few years after Anwar quit the brickfields, his son Umar also quit in 2003. He attended the free Bible Theological Seminary in nearby Lahore and, working hard at his studies, earned a master's degree in Divinity in three years.
Today, Umar, 33, preaches passionately to congregations in the region.
Sharfaz was more fortunate. Being the youngest son, he never had to resort to the brickfields because the family was already upwardly mobile. He studied at Bible school and took English classes at the English College.
Another brother enlisted in the Pakistani Army and sent financial support from his small pay to help the family with their Christian labors.
Mom, at just 49 years old, passed away in 2014 of "old age," Sarfraz says. According to World Health rankings, Pakistanis can expect to live to slightly over 65. Anwar is 67.
Sarfraz now has two separate schools. One was recently build with $60,000 in funds provided by an American pastor. It's a three-story structure tha includes a beautiful grass lawn in the yard. Between the two school facilities, they have 165 students.
Today, bikes have been replaced with motorcycles – and even cars – to visit the laborers in the ubiquitous brickfields and kilns. Red bricks, which are stronger, are baked in the kilns, but for this report we visited only earthen brick sights. Pastors ride the circuit during the week and have used converts to start churches.
"There are a lot of children in the brickfields. There are many, many," says Sarfraz, whose heart aches to see kids deprived of an education and forced to work.
"I want to bring children into the hostel and give them food three times a day and give them clothes," he says. "One floor for the boys and another for the girls. They get the education. The children are our future. If we give them education, they will know who Jesus is. If they live the Bible, then they can understand what is written in the Bible. It is very special."
If you want to know more about a personal relationship with God, go here
About the writer of this article: Pastor Michael Ashcraft is also a financial professional in California.