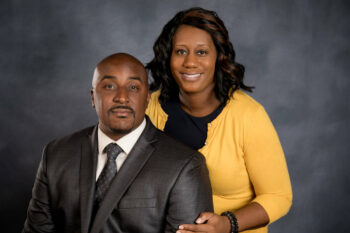 By Michael Ashcraft –
When half his friends carted off to college on sports scholarships, Deon Howard was stuck with the other half, the "knuckleheads," who hung out at his father's house taking drugs, breaking crystal tables, punching holes in the wall, and otherwise "disrespecting" his divorced father's house while he was at work.
"It was so easy for me to have no motivation, no drive because everything was given to me," Deon says on the Virginia Beach Potter's House podcast. "If you're not moving in life, things will stack up on you and you'll be in a desperate place."
As an only child of a military family in Augusta, Georgia, "I was spoiled," Deon says. "I was always on the receiving end of giving, giving. Because of that, I really struggled with being a giver."
When he was 12, he got 84 gifts for Christmas.
That's right. Eighty-four.
About half of them he opened with his cousins. When he got home, some burglars had broken into their home and stolen the TVs and VCRs. What was Deon worried about? His gifts. None of them were touched.
While half his friends were bound for the NBA and NFL, Deon was bound to get into trouble. He was ineligible to play sports because of grades and poor behavior. He got kicked out of the 11th grade and had to go to a private school, which he called "bootleg," founded by a PhD guy from Trinidad that "sold" high school degrees.
When Deon was 21, his parents got divorced. He never knew why his mom, a very private person, simply wrote a letter saying she would never come back. Always self-absorbed, Deon assumed she would come back and by the time he figured out she was never coming back, he was too lost in drugs, drinking and partying to worry anymore.
"It was a mess. Things got really crazy," Deon says. "My house, if you didn't know any better, you would've thought my house was a club. My dad wanted me to have some respect for his house, which I didn't. Hangout spot was an understatement. I was disrespecting my father's house."
On any given day, upwards of 40 different cars were parked outside to gather, use drugs and gamble inside. Horse play broke the expensive glass table. "My dad would come to see holes in the walls," Deon says. They would try to clean before Dad got home from work.
From age 20 to 24, that was Deon's routine. At the clubs, he loved to dance.
"I loved my mom and dad, but I was out there," he admits. "We grew up good kids. I had a good, middle-class home. I had no reason. I just had no business about myself. We were bums, these spoiled kids living in their parents' homes. It's not that I was missing meals; that wasn't the case. I was just spoiled. It made me not have an urgency about life."
He neither sold nor bought drugs; his friends just offered them for free. His occasionally used ecstasy.
The lifestyle began to wear on him. When he turned 24, a friend called and offered him a job in the Navy's Shipyard in Newport News. The friend said he would "rig" a resume for him, enroll him in a sheet metal class, and he would be making $24 per hour – good money at the time.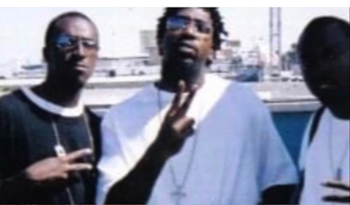 Despite failing the sheet metal class, Deon's connections got him the certificate and the job – at which he lasted 15 minutes before getting fired. He didn't know the first thing about being a sheet metal mechanic.
"He gives me this paper, and I don't know what I'm doing. I barely passed high school," Deon says. "I don't remember 5/16ths of an inch. So I'm going to fake it until I make it. But I'm about to sink this ship.
"He comes back and looks at it. He takes the badge off me and says, 'This job is not for you,'" Deon remembers. "Twenty-four dollars an hour! I lasted only five minutes on the job."
Deon wanted nothing more than to smoke marijuana and return to Georgia, but his friend encouraged him to stay. So did his dad, who pointed out that Deon was 24 – plenty old enough to grow up and take responsibility.
Deon got a job at Danny's Deli making $6/hour.
The roommates moved out with baby mommas, and Deon didn't have enough money to pay the electricity bill.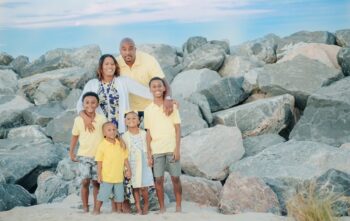 One day when he came home exhausted from work, sitting in the dark, he saw a friend's Bible sitting on the table. The friend read it randomly from time to time, usually while smoking marijuana (and as far as Deon knows, he never got saved from reading it).
That day Deon was discouraged as he contemplated the Bible and remembered his grandmother who honored and cherished the Bible.
Out of the blue, God spoke "as clear as day." It was without precedent.
Son, look, no matter what you try to accomplish, no matter what you do, no matter what the situation is, you will always feel empty until you surrender your life to me.
Deon was thunderstruck. He had never heard God before. His parents didn't teach him about God – just his grandmother back in the day.
Deon was at a turning point in his life and he uttered a vow: "I'm about to read this whole entire Bible," he said.
It was 2004. He devoured the Bible in four months. He didn't go to church. But the plain Word of God was changing him. As soon as he got off work, he read – by the light from the hallway outside the apartment. He left his door open to take advantage of the light.
"I'm reading 30 chapters a day. I'm going through Leviticus. I'm not understanding anything," he remembers. "God was doing something in me."
He stopped drinking, smoking, cursing and fornicating. He called his friends and told them he was saved. The power of the Word and the Spirit caused him to surrender to Jesus as his Lord and Savor and he was born again.
"I told my dad. He was happy," he recounts.
His friends moved back in, and Deon was the "oddball." They smoked and he didn't.
One day his friend came home drunk from the club at 4:00 a.m. and, cooking up chicken fingers in a pot of grease, he fell asleep. The pot caught fire – as did the Grey Goose vodka he left next to it. All the roommates escaped, but the house sustained terrible damage.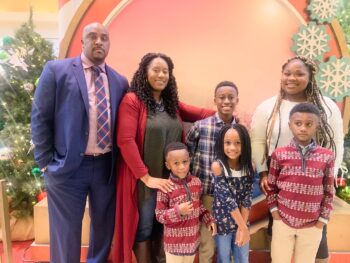 Homeless, Deon returned to Georgia. The devil taunted him on the trip home. "Yeah, you were a Christian in Virginia. Let's see how you do back home. It was my Egypt."
Sure enough, Deon persevered as a Christian in Georgia for only two weeks. He fell back into all the old sins. He felt miserable.
After a year of general malaise, Deon again felt God impress on his heart:
You thought you went to Virginia to get that job. But that's not why you went to Virginia. That's where I saved you. That's where destiny is at. You need to get back to Virginia.
Two weeks later, his friend called him again. He would hook him up with a job as an electrician with another "rigged up" resume.
Deon felt this was no coincidence, though he declined to fake it. He would apply for any job and get the one he would be most qualified for. A friend bought him a ticket to Virginia.
God got him ready for round two by directing him to find a church and submit to their leadership.
The first guy who handed him a flier inviting him to church got him. He's been part of the Potter's House Church in Portsmouth and Newport News since. He got a legitimate job at the Shipyard, one he was qualified for and didn't have to fake it.
He called up a friend, Ta're, and witnessed to her. Today they're married with six kids. He's an assistant pastor in the church.
The procrastination, from always having everything given to him as a spoiled child, though, was harder to shed than the drugs, liquor and cussing, he says.
"I finally got my license when I got married," he admits. "If it weren't for my wife, I'd probably still be driving dirty."
If you want to know more about a personal relationship with God, go here
About the writer of this article: Pastor Michael Ashcraft is also a financial professional in California.