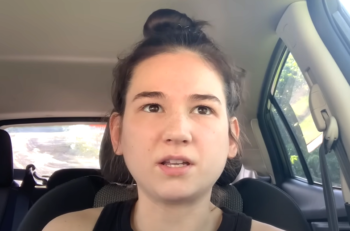 By Dahlia Gonzalez –
Her Christmas Eve hope was to die in the hospital and put an end to the endless pain from Crohn's disease.
Then a Jamaican dietitian showed up and prayed for Cassidy Kellagher, and her Christmas gift was to wake up without pain for the first time in many months.
"I realized that was an angel," Cassidy says on her YouTube channel. A Christmas angel.
Before coming to the Lord, Cassidy was virulently anti-Christian to the point she wouldn't even say "Bless you" when somebody sneezed.
By her own account, she was "an extreme atheist, an extreme vegan, pansexual and an egotistical, terrible person," She marched in gay pride parades and, dressed in a lettuce bikini, handed out veggie dogs to Senators with PETA.
"I wouldn't eat with anybody who ate meat," she says. "I just went out of my way to shame people who didn't believe what I believed in."
In June 2019 Cassidy began to have severe stomach aches. She soon went to the ER and got a CAT scan and was diagnosed with Crohn's disease. In three months time, she lost 60 pounds. Doctors pumped her with pain meds to alleviate the excruciating pain.
"Nothing was working," she says.
She dwindled down to 80 pounds and after six months wished to die.
"I wanted to kill myself," she says. "I woke up and hated my existence. I hated every second of it. I had no hope. I lost my personal life."
Then Christmas Eve came, and the pain was so intense that Cassidy asked her mom to take her back to the hospital.
"I felt like it was going to be my last day on Earth," she says. "I was excited, like no more pain, no more tears. Let's do it."
But she didn't die. On Christmas she woke up and met the Jamaican dietitian. She had never seen her before, which was strange because she had been in and out of the hospital so often, she thought she knew everybody. She didn't pay too much attention initially.
For the first time in a long time, Cassidy broke down in tears, which was strange because "I didn't really have any emotions at that time. I was pretty much a vegetable just waiting to die," she remembers.
The dietitian broke hospital protocol and told Cassidy she was going to pray for her – a decision Cassidy resisted with all the strength she could muster in her weakened condition. But since the Jamaican lady insisted, Cassidy relented. She didn't expect anything to happen as a result of the words spoken over her.
"She had so much passion for me," Cassidy recalls.
"You will be healed and you will be a healer," the woman prophesied.
The day after Christmas, Cassidy woke up and no longer felt any pain. As a matter of fact, she felt so good she wanted to be released from the hospital, which staff wouldn't allow because of the seriousness of her condition previously.
Her mom was mystified. What happened? Cassidy didn't know but responded: "I have a light in me."
After her condition dramatically improved, she was released the next day.
Since the pain had left her, Cassidy went back to her old ways of fornicating and partying. She was still trying to fill a void in her heart. A friend of hers was Buddhist, and so she got some Buddhist tattoos.
Then Covid hit, and Cassidy went into lockdown. During this time, she really meditated on her life. She remembered the "beautiful" Jamaican lady who laid hands on her at the hospital to pray. She realized that she had jeopardized her job by inserting prayer into the professional context. She could have lost her job, Cassidy thought.
Her curiosity piqued; she searched the hospital's directory for her. She remembered that she had never seen the Jamaican lady prior to the Christmas visit. Among the staff, there was no Jamaican dietitian. As she pondered, Cassidy came to a conclusion that a confirmed atheist never wants to reach.
"It was an angel sent from God," she says. "I had to admit that there was no physical way that I could have woken up the next day with no pain."
She accepted Christ into her heart and became born-again. Today, she serves the Lord, witnessing to people. She still has health issues, but she is grateful for life and for her salvation.
"I can tell you with all of my might it is so much better with the Lord by your side," she says. "I didn't deserve his love, I deserve hell. Even through these hospital times and in these deep struggles I still see his hands the whole time.
"He has filled the void!"
If you want to know more about a personal relationship with God, go here
Dahlia Gonzalez studies at the Lighthouse Christian Academy in Santa Monica.