By Mark Ellis –
The German Jewish philosopher Edith Stein was born into an observant Jewish family on Yom Kippur, the holiest day on the Hebrew calendar, also known as the Day of Atonement.
Despite her family's strong faith, she became an agnostic in her teens and pursued an academic career, earning a doctorate in philosophy, summa cum laude, with her brilliant dissertation about empathy.
She joined the faculty of the University of Freiburg, where she became an assistant to Edmund Husserl, who had established the school of phenomenology.
In the summer of 1921, she spent several weeks at the country estate of a pupil of Husserl's who had converted to Christianity. One evening Edith picked up The Autobiography of St. Teresa of Avila. Captivated, she read the book throughout the night.
When she finished the book, she thought: This is the truth. She prayed to receive Jesus Christ and was born again. Later, looking back on her life, she wrote: "My longing for truth was a single prayer."
Some months after reading the book, on January 1, 1922, Edith was baptized by the Catholic Church and eventually became a Carmelite nun, choosing the name of Teresa in honor of St. Teresa of Avila.
In 1932 she became a lecturer at the Institute for Scientific Pedagogy in Münster, but antisemitic legislation passed by the Nazi government forced her to resign the post in 1933.
In a letter to Pope Pius XI, she denounced the Nazi regime and urged the pope to denounce them as well:
For weeks we have seen deeds perpetrated in Germany which mock any sense of justice and humanity, not to mention love of neighbor. For years the leaders of National Socialism have been preaching hatred of the Jews. … But the responsibility must fall, after all, on those who brought them to this point and it also falls on those who keep silent in the face of such happenings. Everything that happened and continues to happen on a daily basis originates with a government that calls itself 'Christian'.
For weeks not only Jews but also thousands of faithful Catholics in Germany, and, I believe, all over the world, have been waiting and hoping for the Church of Christ to raise its voice to put a stop to this abuse of Christ's name. Is not this idolization of race and governmental power which is being pounded into the public consciousness by the radio open heresy?
Isn't the effort to destroy Jewish blood an abuse of the holiest humanity of our Savior…? Is not all this diametrically opposed to the conduct of our Lord and Savior, who, even on the cross, still prayed for his persecutors? And isn't this a black mark on the record of this Holy Year which was intended to be a year of peace and reconciliation? We all, who are faithful children of the Church and who see the conditions in Germany with open eyes, fear the worst for the prestige of the Church, if the silence continues any longer.
Edith's teaching position had been revoked by the passage of the Law for the Restoration of the Professional Civil Service, two months after Adolph Hitler gained power. The law stated that in order to re-establish a "national" and "professional" civil service, people of non-Aryan descent were to be dismissed or retire. This meant that Jews could not serve as teachers, professors, judges, or in other government posts. Soon a similar law was passed concerning lawyers, doctors, tax consultants, musicians, and notaries.
In response to the growing Nazi threat, Edith and her sister Rosa were transferred to a convent in the Netherlands, where Edith taught philosophy and Latin.
After the Germans invaded the Netherlands in May, 1940, Edith began to prepare herself for martyrdom. Her fellow sisters later recounted how Stein began "quietly training herself for life in a concentration camp, by enduring cold and hunger" after the Nazi invasion.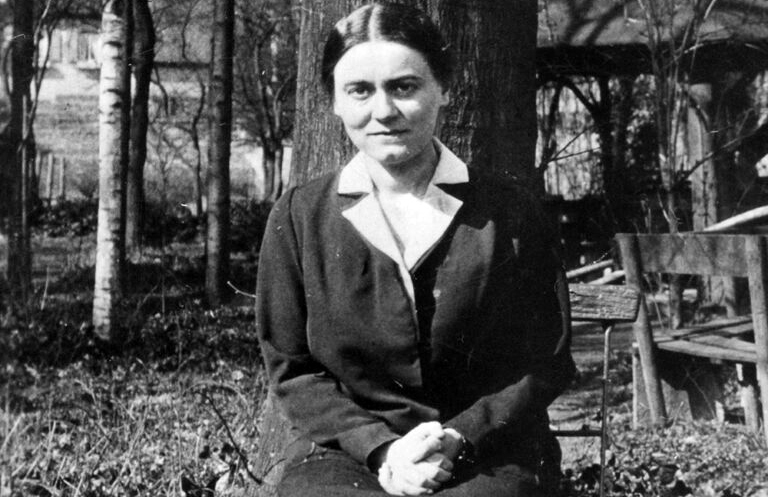 In July 1942 the Reichskommissar of the Netherlands ordered the arrest of all Jewish converts to Christianity. Along with 243 baptized Jews living in the Netherlands, Stein was arrested by the SS on August 2, 1942. Stein and her sister Rosa were imprisoned at two smaller concentration camps, Amersfoort and Westerbork before being deported to Auschwitz.
A Dutch official at the Westerbork camp was so impressed by her faith and calm, he proposed to her an escape plan. Stein refused his assistance, stating: "If somebody intervened at this point and took away [her] chance to share in the fate of [her] brothers and sisters, that would be utter annihilation."
On August 7, 1942, Edith and her sister, along with 987 other Jews were transferred to the Auschwitz concentration camp. It may have only been a few days later that they were killed in a gas chamber.