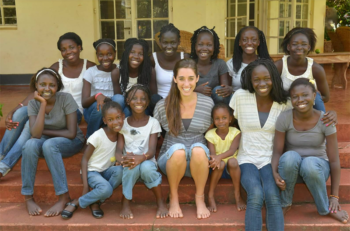 By Allie Scribner –
Katie Davis Majors was a Tennessee high school homecoming queen headed to nursing school. But instead, she became a mom to 13 girls – all in 18 months.
Katie adopted them all in Uganda, where she ditched her high-paying career path to work in poverty as a missionary at an orphanage in Africa.
""God just designed me that way because he already knew that this is what the plan was for my life — even though I didn't," she says on madehanaqvinews.com.
In 2008, she was class president of her high school Brentwood, Tennessee, when she went on a short-term mission trip to Uganda. Short-term missions make a lasting impact on many, but for Katie it was off the charts.
The poverty she observed moved her to compassion. Believing she could make a difference, she made a heartfelt decision: to put off college for one year and teach kindergarten in the Christian-run orphanage.
During her time there, a terrible rainstorm caused a mudhouse to collapse, burying several children. Leaders scurried to rescue the kids buried under the remains of the earthen house. Fortunately, none were seriously hurt and could recover in a local hospital.
After being rescued, Agnas, 9, whose parents both died of AIDS, plaintively asked if she could live with Katie forever.
Looking into the pleading brown eyes, Katie could not say no.
That was the beginning. Katie didn't immediately embrace her destiny. To please her parents, she returned to the United States to get her nursing degree but found herself longing for the orphans in Uganda.
Ultimately, she returned as a full-time missionary. As she worked with the children, she felt a bond growing in her heart and wondered if she could adopt. Under Uganda law, she had to be 25 to adopt, but she could initially be granted custodial care.
She began her missionary work by teaching kindergarteners who were eager to learn.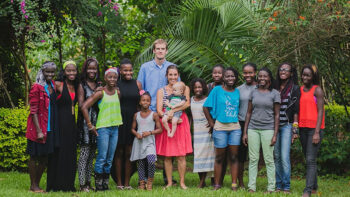 Katie stayed in Uganda, serving. Everyday was filled with love and joyful sacrifice. She wound up marrying a fellow Tennessean missionary, Benji Davis, and they started a family, with God providing two biological sons.
When she was old enough, she began adopting orphans — 13 of them!
"I feel like she's really my mother because she shows me love," says Prissy, one of the girls. "I feel like, yes, this is my mom."
Katie has set up Amazina Ministries International to underwrite two schools and medical and vocational outreach, as well as scholarships.
"God just designed me that way because He already knew that this is what the plan was for my life, even though I didn't know," Katie says.
If you want to know more about a personal relationship with God, go here
Allie Scribner studies at the Lighthouse Christian Academy near Culver City.