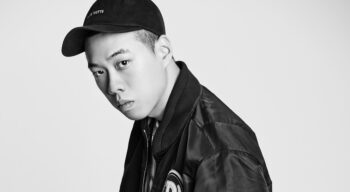 By Alice Kim –
Lee Byung-Yoon was an uncommon Korean child; he had no dreams for his future.
Then, to the chagrin of his parents, he wanted to be a hip hop artist.
"I had a dream in my first year of high school, and it was to make music," he says on a YouTube video in Korean.
Eventually his parents supported his dream. Then BewhY (a simplification of his name that he uses as a stage name) won the prestigious Gaon Chart Awards in 2020. And every song he does is based on a Bible verse.
"I praise the Lord of my fathers today," he raps in "On that Day." "Even if many walls of oppression block me, I wait for the Lord only. Oh, the day of glory. Oh, God, please accept my heart."
Of the South Korean population, 28% identify as Christian, so having Christian artists is not uncommon. What's unique is that BewhY – noted for his sincerity and the fervor of his convictions – would win the secular "discovery" award when all his lyrics are Biblical and his testimony squeaky clean.
At the time he launched, other "Christian" rappers weren't so Christian.
"When foreign rappers listened to K-pop or hip hop at that time, 'idol culture' was a bit of a bad culture, like alcohol or drugs. Five years ago, we talked a lot about Lucifer," he says. "So I thought, 'I can't do this.' I started to dream that I should change influential music and culture into God's culture.
"Honestly, not many people outside think that being a Christian is cool, right? There were few kids like that in adolescence. But God gave me that kind of heart when I was young."
BewhY, who has been active in church activities since childhood, has been eager to live a religious life. "I prayed a lot in high school. I did a lot of church activities before I had a dream. It's really important to live a religious life when you're young. In my life experience, although I didn't buy much, this religious life is really more important than studying. I read a lot of the Bible in the church, and my religious life, such as the direction of prayer, helped me a lot.
In 2016, he catapulted to fame when he was included in Mnet's "Show Me The Money Season 5," a program dedicated exclusively to hip hop. He won first place on the show.
BewhY's first single, released after high school was "Waltz," in which he discusses personally meeting God and finding his own faith apart from his parents. It was a catchy tune that immediately got airtime on the radio.
It was a contrast from the Korean Christian rap at the time, which either lacked in musical quality or lacked in Biblical integrity, he says.
"Music was made by God and hip-hop was made by God, but the culture of speaking God and boasting God's thoughts suddenly became less stylish" he says of the music he listened to at age 17. "There weren't many people who said Christian things and worked hard at that time. I thought it didn't make sense."
Since his initial release, BewhY has released six albums.
"It makes no sense that my Father created this earth, and the person who created it is on my side, and the music I make with God is worse than the world," he says. "I wanted to show it's cool to become a Christian and to rap and show God's culture in a cool way as a Christian."
At acceptance speech for the Gaon award, BewhY quoted his favorite Bible verse.
"I've been waiting for the Gaon Chart ceremony with a calm mind," he says. "I've dreamed of something since I was young, and I'm going to do it at the awards ceremony today. I wanted to say the word of God that I believe is the truth today: In the beginning, was the Word, and the Word was with God, and the Word was God. He was with God in the beginning. Through him all things were made; without him, nothing was made that has been made." (John 1:1-3)
If you want to know more about a personal relationship with God, go here
Alice Kim is a South Korean student at the Lighthouse Christian Academy in Santa Monica.