By Michael Ashcraft –
Customarily, toddler Barrett Golden is the star of the show taking pictures of himself on his mom's phone. But on Monday, the two-year-old Texas tyke used mom's cellular to order 31 cheeseburgers from McDonald's via DoorDash.
Instead of getting mad, Mom Kelsey Golden, whose Facebook profile says, "I love Jesus first and foremost," allowed the mirthful cuteness of the situation to melt her heart like the melted cheese on those burgers.
"He usually likes to take pictures of himself, and so he was doing," Kelsey says. "I thought I'd locked the phone, but apparently I didn't because the DoorDash came with 31 cheeseburgers."
When DoorDash rang her door in Kingsville, Texas, Mom was very surprised by a delivery that she hadn't ordered: $92 worth of hamburgers (including a $16 DoorDasher tip).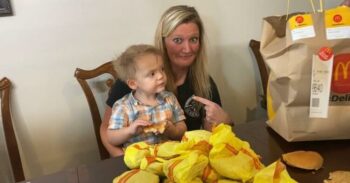 Immediately, she set about to find the culprit, her youngest smiling innocently and charmingly over hacking skills so advanced that even Russian blackhats took notice (JK).
Mom has since "hidden" the DoorDash app on her phone, as well as the Amazon app.
After all, It is the glory of God to conceal a matter (Proverbs 25:2)
Of his Golden Arches spoils, the little Golden boy only ate half a cheeseburger.
The rest, Mom says, were donated to the needy in the community via a Facebook community page.
"I didn't know what to do with them." Kelsey told KRIS 6 News. "He only ate half of one."
Cue Veggie Tale's Cheeseburger song.
Michael Ashcraft also is a financial professional in California.