Receiving a diagnosis of cancer is a nightmare in itself. For Thuan, every night was a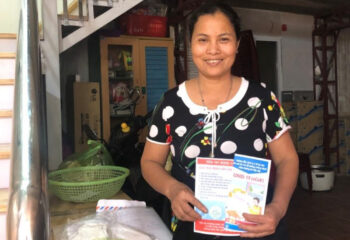 nightmare as she suffered the severe pain, weakness, and weight loss that accompanied her diagnosis.
One night as she agonized both mentally and physically, she recalled how a disciple maker had shared with her about a relationship he had with a man named Jesus. He told her about how Jesus also felt pain and is with us in our pain. That very night, despite her illness, Thuan knew that she could trust God with her health and accepted Jesus as her personal Savior.
Over time, the Lord healed Thuan's weakened body and restored her health. She is no longer a cancer patient. But the Lord provided more than physical healing. The Lord provided Thuan with a new hope and new meaning for her life.
Realizing what the Lord has done for her, Thuan dedicated her life to serving God to the best of her ability. She joined a training program operated by The Timothy Initiative. Thuan learned how to share her story about how Jesus changed her life.
Through her transformation, her family witnessed the power of God and gave their lives to Christ. Many in the community heard Thuan's story and gave their lives to Jesus. Thuan now trains and equips a group to become disciple makers, teaching how to share the Gospel with their village and nearby communities.
Thuan's life has changed from a cancer patient to a disciple maker who makes disciples. She is leading disciple making trainings, started a fellowship, and continues to make an impact on their community for the Lord. – The Timothy Initiative