By Don Hughes —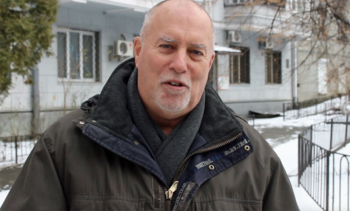 Mercy Projects (MercyProjects.org) founder Jeff Thompson has left the safety of bordering countries to rescue children and their mothers inside Ukraine.
He landed in Hungary at the start of the war. He immediately went to the Ukraine border to coordinate refugee care with staff and ministry partners.
Hearing of the dire circumstances within the war zone, Thompson, along with his adult son Joel and a local missionary partner, bought two 9-passenger vans in western Ukraine, serviced them, and left yesterday for Ternopil.
Thompson said, "We stayed in the home of one of the foster families supported by Mercy Projects last night. Ternopil is relatively quiet at this time. We got up at 5 am and drove 8 hours through snow, ice, and leapfrogged long lines of vehicles into Kyiv today and rescued six people."
"They called us crazy Americans," Thompson added. "Actually, as the song says, 'Our God is an awesome God.'"
He reported that air raid sirens went off as they left the city. He said, "We got through the checkpoints and to safety about two hours outside Kyiv. We will remain there before continuing rescues."
Thompson said, "Thanks so much for your prayers and support. Of course, we are glad to be safe, but our hearts break for the wives and kids forced to separate from their husbands."
Jeff Thompson is no stranger to Russian tyranny and helping its victims. He began smuggling Bibles into the former Soviet Union in 1980 and since has expanded the Mercy Projects ministry to help at-risk children and others throughout Eastern Europe and the world.
Thompson even had an extensive ministry with prisoners and orphans for years after the fall of the Soviet Union before being banned by Putin's government.
Thompson said, "What I am seeing is a people torn. Most did not believe this could happen. Others mourn the loss of life and the senseless killing. A young mother shared today and showed us photos of the home they had just built. She and her husband finished it several weeks ago. Today it is gone."
"We value the outpouring of prayer and financial support we are receiving and ask that it continue during this crisis," he said.
—
View videos, images, and other content here: https://www.mercyprojects.org/category/ukraine-war/