As we begin another night here in Kyiv with periodic sirens and explosions (they often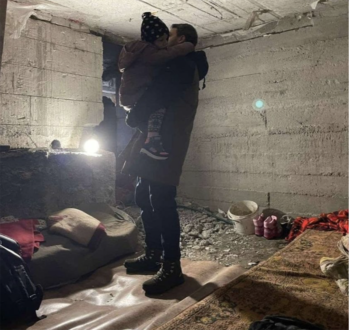 come in clumps of several in a row and then it stops for a while) the Lord is answering your prayers protecting us. Praise Him. We have about 50 people from our church and approximately another 15 or so unbelievers from the neighborhood using our church building as a refuge. There are several children and a couple of babies. We have been here many nights sleeping on mats in our underground parking lot and using it as a bomb shelter.
Pray for:
Our underground parking lot turned into bomb shelter is cold with no heating so pray that people don't get sick and start passing around sickness.
The unbelievers present among us. We meet three times a day for a short sermon and prayer.
Our senior pastor who is carrying a heavy burden with joy and grace. Pray for wisdom as we meet each morning to strategize and problem solve. We've created a clean-up team, cooking team and plan to start Sunday school type lessons for the kids. People have been sent out each day to get supplies and necessities (if they can find them).
Electricity and internet would not be cut off, this would greatly increase our difficulties. Pray that we can get an opening for someone to pick up the generator we've purchased.
Protection of each person in our care and of our church building. We've been building it for years and were only weeks away from finishing it and doing a grand opening.
That we'd be a beacon of God's grace and love – maybe that is what God is doing through this situation! — SEND International