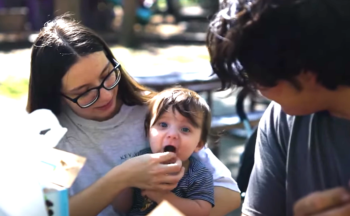 By Israel Matthews –
Shelby and LeGrand started a family with illusions of having a fairy tale life.
But when Shelby was expecting twins – during a high-risk pregnancy that precluded working – the young couple worried how they would pay for groceries, since LeGrand's job remodeling a commercial building didn't pay very much.
"When I found out we were going to have twins, I was nervous and scared," LeGrand says on a CBN video. "It's challenging because I feel like as a dad, I want to make sure they can look up to me and I could be there for them."
Thinking about the babies in her womb filled Shelby with joy, but when she thought of the harsh reality of bills, anxieties plagued her heart.
"Trying to afford groceries is very difficult for us. It's hard to get the money that we need to feed the kids at the same time," she says. "It's hard to balance it out between all the other things we have to pay for. The difficulty of all of that made me feel very down. The not knowing of how we were going to be able to afford things is scary."
To their rescue came their local church, Dayspring Church, which partners with Operation Blessing, a CBN-related nonprofit that for 40 years has aided churches with critical needs projects.
The food pantry has come through in a big way for Shelby, LeGrand and their two tykes.
"Receiving food is a blessing in itself," Shelby says. "Diapers are extremely helpful. I just feel happier and more stress free."
Meanwhile, LeGrand got a new job installing conveyor belt systems that pays better. Their prospects are looking good; the couple is making it through the hard time.
"It's just been an amazing blessing for my family and I know it's blessing in so many other lives," Shelby says. "I would be lost without them in the dark times that we were in."
Israel Matthews studies at the Lighthouse Christian Academy near Westwood, CA.