By Mark Ellis –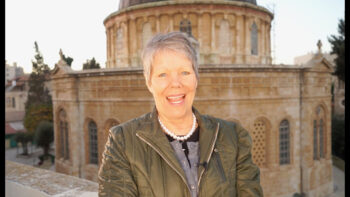 Karen Dunham and a friend were traveling along the road and saw a woman on the sidewalk having a seizure.
"We stopped the car, prayed for her, and rebuked the devil," Dunham reported in a ministry letter. "The woman was having an epileptic seizure and God stopped it."
The woman got into their car, and they drove to a women's shelter and then a hotel. "We donated money and prayed for her. Then we found out she was running away with Satan to a cult and leaving her husband and family."
After they left the woman, Dunham reminded her friend that the blessing of the Lord falls on the evil and the righteous.
The next morning Dunham took the woman a couple suitcases and warned her that if she joined the cult and became enmeshed in Satan's evil clutches, harm would befall her.
Jesus said: The thief comes only to steal and kill and destroy; I have come that they may have life, and have it to the full. (John 10:10)
Dunham went away on a mission trip and when she returned to US, the woman contacted her. "She could not get out of the hotel. She was being blocked at every angle. I had left her my book Pushing the Pillars and she said, "I read in your book you are a healer."
"I believe in the One who heals and He, Jesus Christ, does the healing," Dunham replied.
"As soon as I decided to leave my family the epileptic seizures began," the woman said. "Pray for me and one of two things are going to happen. I am going to be delivered or I will never be."
Dunham prayed for the woman and something remarkable happened.
"The Lord's power caused her pass out as she listened to the prayers."
When the woman awakened, she said, "I am so light, I feel I can fly."
The Lord Jesus brought deliverance!
"Since then, the women has been restored to her family, her husband, and her children. She said, 'I have never loved my husband more than I do right now.'
And he will turn the hearts of the fathers to the children, And the hearts of the children to their fathers, Lest I come and strike the earth with a curse. (Malachi 4:6)
"God is so amazing!"
If you want to know more about a personal relationship with God, go here
If you want to hear more about Karen Dunham's life, listen to episode 1 of our Best of God Reports Interview Podcast with journalist Mark Ellis, go here: https://www.youtube.com/watch?v=5ueLdSomuwc
To learn more about Dunham's ministry, click here