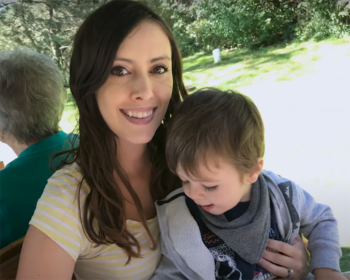 By Israel Matthews –
Since a brain tumor had claimed her grandfather's life, Kaitlin Richardson had a morbid fear of them.
"My worst fear was that they would find a brain tumor," Kaitlin says on a 700 Club video.
Doctors didn't find a brain tumor. They found three.
The devastating news was dealt to Kaitlin, then 28, and her husband after she went to the eye doctor for some unexpected blurriness in her vision in November 2019. The eye doctor saw an inflamed optic nerve and referred her for an MRI.
Weeks later she was admitted to the University of Iowa for the complicated operation to extract the tumors. The surgeon hoped the masses were soft and not intertwining with ventricles of the brain, a possibility that could risk permanent brain damage.
"I was scared," Kaitlin admits. "I didn't think I'd survive my surgery."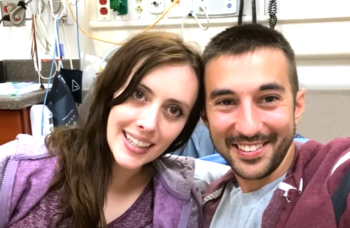 Kaitlin and husband, Noah, had one son, Jonah. She despaired at the thought of her son growing up without a mom.
"I was sad that I wouldn't get to see Jonah grow up," she admits.
She even went so far as to write two letters of goodbye, one to Noah and one to her beloved son, Jonah.
Noah confesses it was hard to watch her write those letters.
After praying and singing praise songs the night before the surgery, she was moved into the operating room the next morning.
Noah spent a sleepless night of wringing his hands, praying and trying to muster faith.
He was exhausted but anxiously waiting the doctor's news.
When his phone rang, he breathed in deeply and answered.
The operation had been a success. The brain tumors had been successfully removed.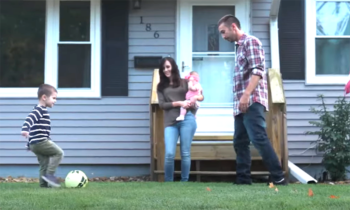 But Kaitlin had suffered a stroke and was not responding on the right side of her body.
As soon as he was allowed in the room, Noah went to her bedside.
She had tubes inserted in her nose and mouth. She had a bandage on her head.
"It was not a sight I wanted to see," he says, tearing up.
Over the coming days, Kaitlin slowly regained consciousness.
It wasn't all good news. It appeared that the stroke had provoked more damage than previously thought.
She couldn't speak.
"The thoughts were, 'How are we going to get through this when we get back to normal again?'" Noah says.
He prayed and prayed and prayed. He declared prophetically over his bride of five years total recovery for her.
After six days, she moved her right hand.
After 15 days, she spoke, and the family broke into tears and cheers.
"That's when I knew everything was going to be ok," says Noah.
During three weeks of rehab, Kaitlin recovered movement in her body. She was discharged 42 days after the surgery.
Ongoing therapy helps her continue to improve.
Even more remarkable, she gave birth to a little sister for Jonah.
"I got through this because of my faith in God," Kaitlin says. "I'm just really thankful that I get to play with my family now and create new memories."
Israel Matthews studies at the Lighthouse Christian Academy near Venice, CA