By Mark Ellis —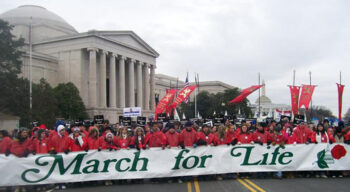 The governor of California and the state Legislature – in league with their allies in the abortion industry — unveiled a plan to make California a "sanctuary" for mothers seeking to kill their babies in the womb if the infamous Roe decision is overturned next year.
At least two dozen states may ban or restrict abortion if the U.S. Supreme Court allows it. In response, proposals under consideration in California would reimburse travel expenses, lodging and abortions for women from other states.
Democratic Gov. Gavin Newsom started a group called The California Future of Abortion Council, which includes more than 40 abortion providers, to recommend changes to state law in the event Roe is reversed.
"We'll be a sanctuary," Newsom told the news media, acknowledging that patients will likely travel to California from other states to seek abortions. "We are looking at ways to support that inevitability and looking at ways to expand our protections."
The state currently pays for abortions for low-income residents through the state's Medicaid program. California is also one of six states that require insurance companies to pay for abortions, although patients may still be required to pay their deductibles and co-pays.
In 2022, the state's independent Legislative Analyst's Office forecasts California will have a budget surplus of approximately $31 billion – dangerous money in the hands of those who advocate the horrendous practice of killing the unborn.
After Texas outlawed abortion after six weeks of pregnancy, California abortionists reported a small increase in women traveling from Texas.
The report recommends using taxpayer dollars to support women's travel expenses for gas, lodging, transportation and childcare. It seeks to reimburse abortionists for services to those who can't afford to pay arriving from other states.
If Roe v. Wade is overturned, the Guttmacher Institute estimates that 1.3 million more women would drive to California to seek abortions, with most arriving from Arizona.
While Nevada is considered a mecca for gambling, California would become known as a haven for baby killing.
Jonathan Keller, president of the California Family Council, said the work of changing hearts and minds about abortion, and providing support for women facing unplanned pregnancies will continue with greater urgency.
"In many ways, that work is going to be even more important, both in light of the Supreme Court's decision and in light of whatever Sacramento decides they are going to do in response," he told AP.