By Michael Ashcraft —
Justin Berry, 20, grew up in Ladera Heights (in LA) going to church with his mom and brother. Going to the Lighthouse Christian Academy cemented his childhood faith and it's also where he met a certain girl named Trina.
He excelled in academics and sports during high school and was elated when he got accepted to his dream college: UCLA. He felt a euphoria unlike any other. But as he tried to push the "accept" button on the electronic offer letter, Justin was held back. God had told him to attend college elsewhere.
"Something was holding my hand back from pressing that button," he remembers. "I started crying and bawling my eyes out. I wanted to go there. This was my ticket to my career. I was trying to press this button and God wouldn't let me do it."
Finally, his mom came in asked what the matter was. He explained, and, being a loving mom, she persuaded him that it was the devil interfering. He finally pushed the button. What could go wrong? He had a beautiful girlfriend and an ideal institution of higher learning. God's blessing was evident.
Only not everything was as it seemed. Secretly, he and Trina had fallen into temptation together, and both were feeling intense conviction.
"It was a rough year of heavy, hard conviction," Justin tells. "I stopped praying and let my relationship with God die away. I replaced (God with) Trina as my idol. I would find my peace, my joy, my happiness through her. When I was with her, I didn't feel any conviction. But when I was away from her, I felt this conviction."
He still attended church and youth group. He would pray tears of guilt in the strangest of places: the bathroom.
"The bathroom is where I prayed," Justin admits. "I still loved God, but something else was stronger."
One night, the pastor proclaimed prophetically: "There's somebody here that God has been asking you to give up something for a long time, and you need to give it up right now."
Startled, Justin felt the conviction of the Holy Spirit.
After the service, he confessed to the pastor the message was for him.
That night, he broke up with Trina. It was the hardest decision of his life up to that moment. His love for this girl was at war with his love for God.
Upset and confused, he called an Uber. As soon as he buckled up, the Uber driver turned to him and said: "Because you have obeyed God, He's going to bless you."
"I'm like WHAT?" he replied, flabbergasted. He had been feeling broken-hearted, agitated and conflicted because of the break-up.
"What the heck is going on?" he wondered, at the same time marveling at the message from an Uber driver. "Whoa that's crazy."
Then the driver told him she had been instructed to make a U-turn, a right-hand turn and then wait by the side of the road for her next rider. God told her to prophesy to whoever it was. Justin was the next rider.
Justin wondered if her word was only an improbable coincidence.
Unprompted, the driver told Justin that to settle his doubts, God was going to play his favorite worship song on the radio. Immediately, on the radio came, "All I need is You, Lord."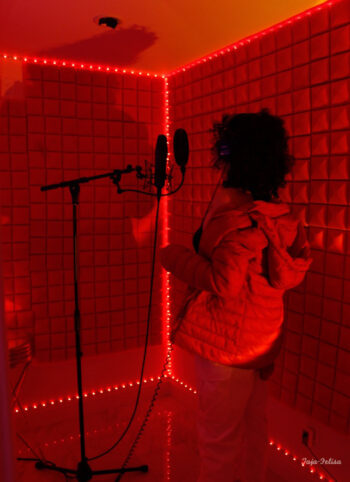 "That really made me start tearing up," he recalls. "God knew everything. It was God's miracle of mercy for me."
Unmistakably, God was calling for Justin to repent and be refreshed by his grace.
Nevertheless, after months, Justin got back together with Trina. Since he knew what he was doing was wrong, he fell into self-condemnation and unbridled sin.
"After God showed up for me, I went back to sin," Justin acknowledges. "I knew I was sinning against God. I went straight into the world: sexual sin and drugs, horrible stuff that I said I would never do."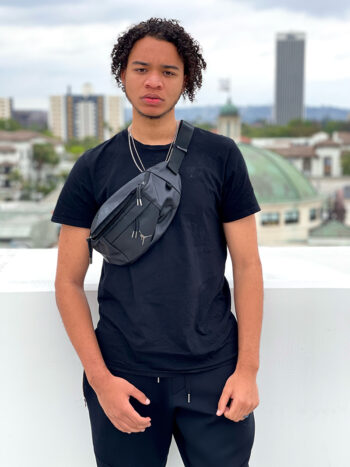 After weeks, Trina and Justin broke up again. The last time, they had tried to break up to get right with God; this time, it was a bad breakup for no good reason. "I actually started to hate her," he says. "I thought she was evil."
Justin despaired and was burdened with guilt, thinking that maybe he had exhausted God's grace with his stubborn rebelliousness.
Thinking he couldn't turn to God, he threw himself headlong into the pleasures of the world.
"At UCLA I was going crazy doing all these things that I shouldn't be doing, the college party lifestyle," he admits. "I was getting further and further and further away from God. It was fun, but I was empty inside. As time kept going, I started to get depressed."
In the bleakness of the vacuum, he decided to go to church one Sunday. After service, God told him: "Headphones, headphones, headphones."
Over and over again, the word repeated in his head, and he couldn't think of anything else.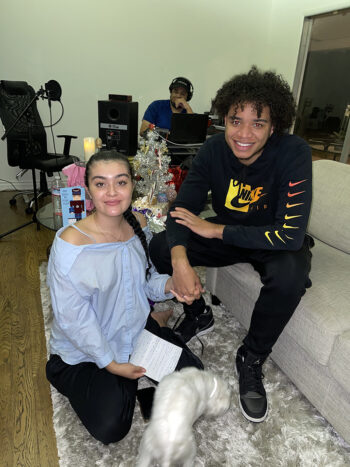 But what did it mean?
"Why are you telling me headphones?" he asked God. "It was…weird."
Once he got back to the dorms, however, a fellow student randomly gave him some headphones.
"Here's some headphones," the guys said and left.
Justin understood. God wanted him to listen to praise and worship. He started crying. After turning his back on God so drastically, God never turned his back on Justin.
"Oh my gosh, God, like you still love me after a year of denying you?" he marveled, feeling the refreshing waves of grace wash over his soul.
"What do you want me to do?"
Leave UCLA, was the answer.
"I have a tendency to say no to God," Justin says. "UCLA was my flex. UCLA was my entry into a good paying job. How could I leave UCLA?"
He remembered how God had told him not to go to UCLA at the beginning. He surveyed in his memory the disastrous year he had at UCLA.
Attending a prayer and prophecy meeting, a Christian greeted him at the door. Without knowing anything about Justin, the Christian told him he was seeing a vision of blue and white UCLA signs with lots and lots of red "Get out" signs.
But his mom had told him it was the devil, not God, who had been keeping him from pushing the "accept" button.
Justin went home to hash things out with Mom.
Surprisingly, she already knew. God had told her that Justin should drop out of a school that thousands of kids are dying to get in and can't.
Nobody else understood.
"Everybody thought I was tripping or I was failing my classes," he says. "Nobody could understand me. My father told other people, 'He's just figuring out stuff.'"
But his mom backed him.
It had been six months since he'd had the bad falling out with Trina. Now God told him to call her. This seemed strange because he had blocked and deleted her.
"It was the most awkward conversation," he remembers. "She took like two minutes to respond, finally saying, 'Why are you calling?'"
They talked things out — with Trina not speaking for long amounts of time. She explained things from her perspective. She had turned back to God. Like Justin, she had a flair for music and was pursuing a Christian music career. She'd turned down a record deal because she wanted God, not fame, she said.
"At that moment, the Holy Spirit revived inside of me," he said. He asked himself, "What the heck am I doing? I'm here just sinning and sinning and sinning. As I went to the world, she got close to God. When she told me that I got back on fire for God."
God told him: "That's your wife."
God told him to enroll in Azusa Pacific University, a Christian college an hour East of UCLA. That's where Trina attended.
This time, Justin got a ring and, taking her to a rose garden, popped the question. Restricted by Covid, they skipped the fancy and expensive wedding and went straight to the courthouse and became Man and Wife.
Today, Justin produces Christian music in Los Angeles. He heads the only Christian music studio in LA, he says. Appropriately, he named his studio "Confirmation" — like the many prophecies that brought him back to God and kept him on track with God. Known as JBThePreacher on spotify, he does Christian hip hop.
He has learned to stop saying No to God. He saw God's long process of calling him back to salvation, holy matrimony and into a beautiful destiny in music ministry.
"God is everything," Justin says. "God's whole purpose is for us to have fun and be righteous and live close to him. God's got my back all the time. If God says, Give all my money to somebody, I'm not saying no anymore. I'm done with that."
Michael Ashcraft also is a financial professional in Los Angeles.