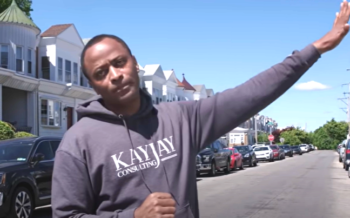 By Michael Ashcraft —
Despite making millions in real estate, Kevin Robinson, 38, scrimps on groceries, eating oatmeal, tuna out of the can, and frozen grapes instead of ice cream. He makes a point of always buying in bulk.
"My family thinks I'm just as cheap as hell," Kevin says on a MarketWatch video. "They say, you're just cheap. Go buy some real ice cream. But little things start to add up for me, and (living frugally) has been very, very good for me in building up my net worth."
Today, Kevin Robinson — who calls himself Kayr — administers 105 rental units, but he grew up in "deep poverty" in Philadelphia. He serves as an example of someone God provided for abundantly as he gave to God's work.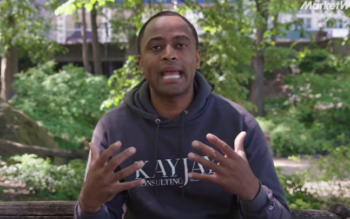 "No one in my family was financially literate," he says. "What happened to me is that I was motivated because when I was 13 or 14 years old, I noticed my mother struggled with money and our local church was always raising money."
So, he went to the local bookstore and read everything on finance, money management and real estate. He didn't buy the books. He didn't have the money to do so. He didn't even have money for the bus to get to the bookstore. He walked there every weekend and spent the day reading them in the store throughout middle school and high school while his friends played sports.
"I would say, 'I'm going to master this material. No one's going to know more than me,'" he remembers. "I sat down. I read the book for free. I put it back."
Throughout his childhood, Mom had to move 10 times. Though instability was not ideal, Kevin found inspiration.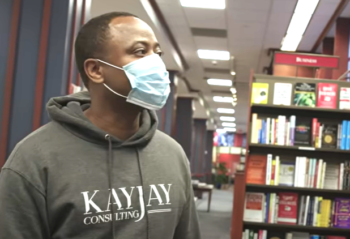 "It looked like the landlord had all this power. He gets to decide who lives and who stays in his property," he says. "I said to myself, 'What am I going to do? Am I going to become the homeless person or the teenage dad? Or am I going to become the landlord or the business owner?'
"I decided to become the landlord and the business owner."
His academic discipline earned him a scholarship at the university, and he procured internships on Wall Street every summer. He learned wealth management, sales and investment banking. After completing his MBA, he landed a job with Goldman Sachs making six figures.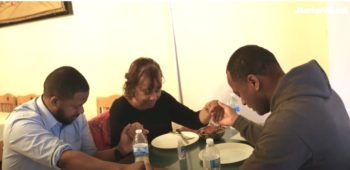 Since scrimping had been his way of life, he converted it into his path to success. He actually had scholarship money left over, which he used with some savings to buy his first house for $84,000 in 2009.
Soon enough, he expanded his holdings through his earnings and made renovations with a credit card. He still owes $170,000 on a student loan, which he pays off at $1,200 a month. He uses his earnings, not to pay off the student loan, but to expand his property management company in Cobbs Creek, Philadelphia.
By purchasing multi-family and single-family units close to each other, his team doesn't have to travel all over to do repairs and show rentals. He didn't need to research various neighborhoods and can offer all area amenities to all prospective tenants.
"Because I started with one unit, I was really able to master the whole process," he says. "I was pretty much the general contractor and the property manager, so I got to see all facets. I put my family members involved in the business as well."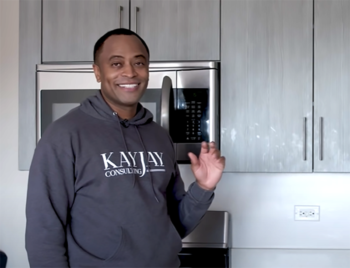 Some people see problems working with family in business, but Kevin says he's able to spread financial blessing to his family and count on their trustworthiness. His stepmom is senior property manager, his brother does the landscaping, an aunt cleans the apartments.
"Growing up I noticed there was disparity in terms of wealth between my family members and when I went off to Bowdoin College. A lot of kids, white kids primarily, were really well off. So I started to say, 'How can I create transformational wealth?' What I mean by that is I want to create wealth in my community today
His brother got a real estate license also. He was able to buy himself a house and receive the commission, and then help his in-laws buy a house.
"We grew up with days in which your stomach was hurting because you barely ate," says the brother, Christian Washington. "Now I have five children, and they get to enjoy the world. They travel. They've been to different countries. We have the financial freedom that we've always dreamed of."
Kevin's example inspires his family and many in the neighborhood. "If this small family can do it, then you can do it," is the message that resonates.
On Aug. 1, 2020, he retired from investment banking and now does consulting and oversees his property management business.
"Now I work, but I do not work nearly as hard as I used to in terms of physical labor, running to the job and reporting to someone," he says. "I was able to amass a lot of real estate and also invest several hundreds of thousands of dollars into stocks. I use this to have multiple streams of income and have a big cash reserve.
"I want to have a larger impact on society."
Michael Ashcraft also is a financial professional in Los Angeles.