By Michael Ashcraft —
Josh Broome didn't even know her name.
Working as a waiter at a steakhouse in LA, Josh wanted to become a star but the attractive ladies at his table offered him a different kind of acting: "adult" movies.
"I showed up (at the studio) and I was terrified, and everyone's like, 'Don't worry about it. Just take this pill, you'll be able to perform.' I didn't have a conversation with the girl. I didn't know her name. We never even made eye contact. I felt dirty.
"That changed the rest of my life."
And so the small-town kid fell into the swamp of Hollywood.
Josh Broome didn't enjoy a relationship with his father, so when he started modeling at age 15, he thrived on the praise, the positive reinforcement.
"If I am successful in any type of genre of a film or theater, I would be loved," he thought at the time. So with $50, he moved to Golden State, California, home to the film industry, maker of stars. His plan, of course, was to do something legitimate.
But as the months dragged into years, when the "provocatively dressed" girls showed up and made him the proposal, he quickly agreed. It seemed cool, and he needed the cash.
The first film was disillusioning.
"It didn't feel real. I didn't feel like it truly happened," he says. "Then some of my friends saw. I was embarrassed, even though they were like, 'Dude, that's so cool'"
But if his friends stumbled onto and watched his video, Josh realized that his mom would eventually find out. What would she think?
"I was thinking about embarrassing my mom," he admits.
At the same time, he rehearsed his rationalization. "I already did one. So, what's the difference, if I do another one."
"Then all of a sudden you know I've done a few and I've made three or four thousand dollars in less than a month," he adds. "All of a sudden I was doing 20 a month."
Of course, Mom found out.
"I still didn't stop. I became this person I didn't even know," Josh says. "The more I was willing to care less about myself, the more I was willing to do these movies."
Josh became a "star," performing in thousands of films in five years.
"I'm, crying myself to sleep every night," he remembers. "Every time I worked, I would literally shower, and I couldn't get clean enough because I couldn't wash off the hurt."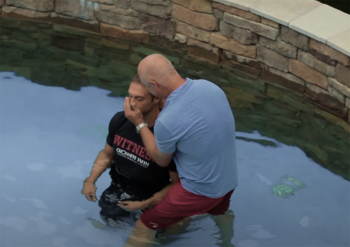 The breaking point came from a bank teller. "Josh, is there anything else I can do for you?" the teller asked.
It was the first time he had heard his own name in such a long time.
"I just lost it and I went home and I looked myself in the mirror and I was like, 'What have I done? What have I done with my life? I haven't been home in two Christmases. I wasn't taking care of my mom. I wasn't taking care of my brother."
He called his director and quit.
"I ran, I ran for my life. I moved to North Carolina," he says. "Every night, I would have dreams of the things I did. Even though I wasn't doing anything anymore, my sin was just tucked away. It wasn't dealt with.
"The last thing I wanted to do was face what I did, and I had ruined my relationship with my family."
His mom offered him unconditional love.
"But I knew I embarrassed her," he confesses.
Next, Josh met Hope. She was pretty and liked Josh.
He worried that his skeletons were too horrifying. Once she found it, she would reject him, he feared.
"There's no way that she could accept me for who I am," he thought.
In a tender moment, she asked about his faith in God.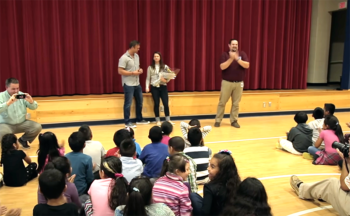 He said yes. Then he gave her the blow.
"I did pornography for over five years," he uttered.
She looked into his face.
"That's not who you are," she said. "God forgave you for that. Why can't I?"
Josh couldn't believe his ears.
"Wow," he responded. "That's what being a Christian is like? How awesome is that?"
He began attending church with Hope (interestingly, to "Hope" Church) and the pastor's message was about forgiveness and restoration.
"No matter how broken you are, it's never too late," Josh says. "I believed that. My whole life changed. Here I am so undeserving, and He stooped down and picked me up and he brushed me off and I was clean. It was like it never happened in his eyes, I can't explain the burden that was lifted off of me."
Josh got baptized and married. He and Hope have two kids.
If you want to know more about a personal relationship with God, go here
Reporter Michael Ashcraft is a pastor and a financial professional based in Los Angeles.