By Mark Ellis –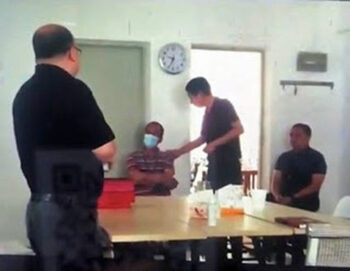 Government authorities raided the office of Shenzhen Trinity Gospel Harvest Church's online Zoom worship service on July 11th, according to ChinaAid.
The officers forced Pastor Mao Zhibin and Elder Chu Yanqing to stop preaching, while other Chinese Communist Party (CCP) officials surrounded the church, founded four years ago.
"Because the church strongly supports justice, many dissidents have joined this young church," ChinaAid noted. "In addition, as Pastor Mao and Elder Shen Ling joined other ministers to support and sign Pastor Wang Yi's 'A Joint Statement by Pastors: A Declaration for the Sake of the Christian Faith,' CCP/Shenzhen municipal government authorities regularly target and persecute members."
On April 25th, authorities raided one of their Sunday services, banned the church, and ordered those present to leave. Police officers transported Pastor Mao, Pastor Cao Yuan, and Elder Chu, with seven other Christians, to the Bantian police station.
A video posted on Twitter revealed conflict erupting while two plain-clothes CCP officials talked to Pastor Mao and Elder Chu during their July 11th raid. After officials stopped the virtual service, Pastor Mao and Eder Chu followed them out of their offices.
"Despite CCP authorities infringing on this church's rights to worship, Pastor Mao and Elder Chu, as well as Christian Brothers and Sisters reportedly remain safe," according to ChinaAid.