By Mark Ellis –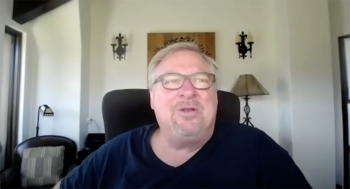 In a one-hour video recorded for his staff, influential author and pastor Rick Warren, founder of Saddleback Church, explained a dozen reasons that led to his decision to step aside at the mega church. At the forefront of his thinking was an ongoing battle with a rare disease, spinal myoclonus, which has led to extreme sleep deprivation over many years.
Warren said he was certain about the timing of his Spirit-led decision, because he respects and trusts the maturity of the members. "I believe the staff is the healthiest it's ever been right now," he declared.
Ironically, he stated three surprising reasons for the health of the staff: Covid-19, Zoom meetings during the health crisis, and their courageous effort to address racial reconciliation head-on. All three led to a deeper bond among them.
"We are not in a crisis," he stated, asking for prayer as they begin a search for his replacement. Remarkably, the church's finances have remained strong during their lengthy shutdown.
But his own health was a major factor in the timing of his announcement. "Coming out of Covid, I realized my thorn in the flesh, which happened years before Saddleback, was getting worse," he explained.
"When adrenaline hits my system it creates a shaking, tremors like Parkinson's. It doesn't happen when I'm moving. It only happens when I'm trying to go to sleep, when I relax. When I relax my body starts shaking violently and it keeps me awake."
The syndrome has led to extreme sleep deprivation for the gifted leader. "Many nights a week I'll be up all night. I have been living a sleep-deprived life most of my life."
It is impossible for him to take a nap. "If I lay down my body will start shaking," he said.
When Warren and his wife Kay started Saddleback, he thought he could handle the adrenaline-overload and shaking resulting from preaching once on Sunday. But the church's explosive growth meant he started multiple services after the first six months.
"It became two, three, four, five and six services," he explained. "My body has paid a tremendous toll for preaching multiple services."
During the Covid crisis, he only preached once a week and his body appreciated the forced rest. "I started sleeping and I lost 40 pounds," he said.
"When we started back up doing four services, I realized I'm not going to be able to keep this up."
Warren's decision also was affected by the passing of three founding members of the church recently — all within a six-month period. "That was not only a shock to me; it was a wake-up call that we didn't have any process in place…to replace me. That is bad stewardship and bad planning," he noted.
Another significant reason for stepping down is his leadership of the Finishing the Task coalition. "As we work toward the 2033 goal of a Bible, a believer, and a body of Christ in every unreached people group and place in the world, that's an enormous task. I am the spokesperson and the face of the movement. I know God wants me to lead Finishing the Task."
Warren also has a desire to spend more time writing. "I have about six half-written books that I know God wants to use as much as Purpose Driven Life," he said. When he wrote the book, which has sold 50 million copies in English, he took seven months off from his preaching duties, only preaching Christmas and Easter, and he didn't lead staff meetings. Amazingly, the church grew by 800 people during his sabbatical.
"I can't write and lead at the same time. I want to write a book about hope called The Resurrection of Hope, about the 40 days after the resurrection."
At the founding of Saddleback, he committed to stay at the helm 40 years, and he and Kay are now in their 42nd year. As the Covid crisis began to wane, his decision crystallized.
Warren remains optimistic about the future of Saddleback, even without him as senior pastor. "We are poised right now for a new season of growth in the fall. You can bank on it," he declared confidently, because people are hungry for meaning as they emerge from the pandemic.
Soon, the church will open a new worship center. "People think we're remodeling, but it's a totally new worship center."
"We have in our church right now a solid core," he continued. "You couldn't drive them away. The soil of Saddleback is so rich, we're going to bear fruit, no matter who the senior pastor is."