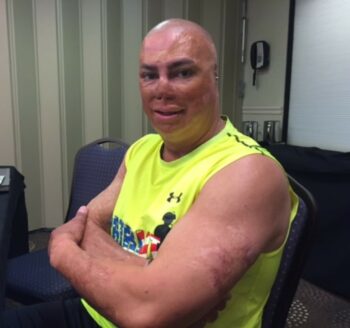 By Nicholas Boatwright —
To make kids laugh and to avoid making them nervous because of his disfigurement, Shilo Harris wears "elf ears" like Spock from Star Trek.
The prosthetic ears attach magnetically. He lost his ears — and the skin on 35% of his body — in Feb. 19, 2007 when, as a soldier, his Humvee was hit by an IED on patrol on a stretch of Southern Baghdad road so dangerous it was called "Metallica."
The IED killed three other U.S. Army soldiers, wounded a fourth and sent Shilo into a 48-day coma. When he awoke from the coma, he endured years of surgery and rehab. The whole experience and the murky, painful time he spent in a coma, Shilo calls "hell."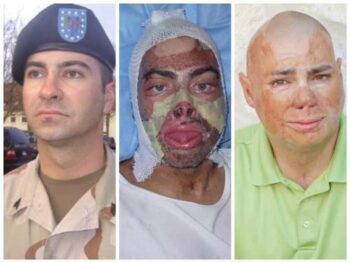 "It was the scariest, darkest, creepiest thing," Shilo says on a 100Huntley video. "Everything was sharp and painful. The helpless feeling. It had to have been Hell. That's the way I interpreted it."
Today, Shilo Harris is a Christian man who has drawn close to God because of his experiences. He's written a book, Steel Will: My Journey through Hell to Become the Man I was Meant to be. He's a motivational speaker in schools.
Shilo grew up in Coleman, Texas, working at a bait and tackle shop run by his dad, a Vietnam veteran who suffered from untreated PTSD.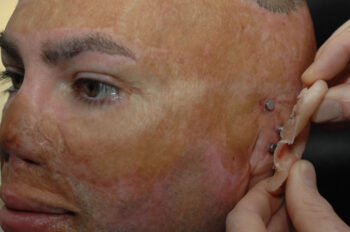 When Shilo saw the Twin Towers fall in New York City, he felt the need to serve his country to fight the terrorists who had decimated civilians with no prior declaration of war. He found himself in the U.S. Calvary during the Iraq War.
The fateful explosion engulfed the Humvee with flames. He managed to escape the vehicle. His body armor, made of nylon and plastic, melted onto his body. His ammo pouch was on fire. He rolled on the ground to snuff the flames. How did his own ammo not erupt and perforate him with rounds?
"I guess you could say I was pretty fortunate on a couple of accounts that day," he told NPR.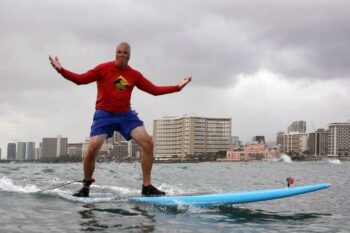 He woke up from a medically-induced 48-day coma. In addition to his ears, he lost three fingers and the tip of his nose. He had a fractured collarbone and vertebrae.
He learned that his three buddies died and he dry-heaved from survivor's guilt for two days.
After three years and over 60 surgeries including stem cell research to regrow parts of his body, Shilo credits God with making it through.
"I definitely try to let everybody know that I'm here because of God and that these scars are a blessing," he says.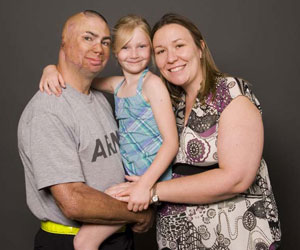 Shilo didn't always embrace his fate. With six hours a day of wound care and thrice daily rehab, with post-traumatic stress disorder, Shilo says he fell into drinking and even put a gun to his head.
Kathryn, his wife, stayed faithfully by his side, functioning as the principal wound dresser and caregiver. But the strain was crushing for her, and the couple divorced, a decision Shilo understands. "Generally you say through sickness and through health but then you say, 'What the hell is this? Did I sign up for this?'"
Shilo had to go deep with God to come out of the depths of despair.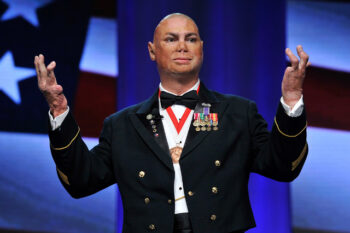 "It was dark and scary," he says. "It made me want to get closer to Christ because I don't ever want to experience that again."
Today, Shilo dedicates his life to helping veterans. Twelve veterans a day, he says, commit suicide.
"You are not alone. You are loved and there are amazing organizations out there," Harris addresses vets. "Get on your phone, call your buddy, call your command, call somebody. There are so many resources out there. You just have to go out there and experience them."
As the part of the enduring aftermath of the fiery attack, Shilo even today has constant pain and can't be in the sin for very long since much of his skin doesn't work well sweating for cooling; he can overheat easily.
The message is deeply moving, even as he dons the Spock ears to make kids giggle, lose their fear and listen to the message of hope in Christ.
"I am a man who has lived through hell. It is hard to share this experience — the carnage, the devastation, the loss. I will always know the horrors of war," Harris says. "I will tell you what an explosion does to you on the outside. And I will tell you what an explosion does to you on the inside. And I will demonstrate what it means to live fearlessly, with a clear understanding of the grace that can redeem mayhem."
If you want to know more about a personal relationship with God, go here
Nicholas Boatwright studies at the Lighthouse Christian Academy just north of Venice, CA.