By Christian Devantier —
Standing at 6'3" with 300 pounds of muscle, Kentucky defensive end Josh Paschal strikes fear into opponents. When he was diagnosed with cancer, the Christian player got his own chance to be afraid.
"I knew Who I was living for and why I'm here, and so I leaned on the Lord and I trusted in Him," Paschal says on a CBN video. "No matter the outcome, I knew it was in His plan and that's how I got through."
From age five, the Washington D.C. native dreamed of joining the NFL.
"Even when I was little, I would go outside and get the kids in the neighborhood and we'd have a big game right in the middle of the field," he remembers. "I would act like I was an NFL player. I had my jersey on while we were outside playing. When I would score, I would celebrate like the pros."

His parents took him to church, but he didn't accept Christ into his heart until he heard a chapel sermon from Fellowship of Christian Athletes chaplain Aaron Hogue during his sophomore year.
"I felt joyful. I saw what it looked like to have a relationship with Jesus Christ, not just pray to Him when times get hard," he says. "I wanted to have a full-on relationship with Him, to trust Him and to let Him guide your life."
Four months later, the team doctor wanted him to get a spot on his foot tested. It was malignant melanoma.
The fearsome footballer didn't surrender to fear. He trusted in God and was concerned for his family and team.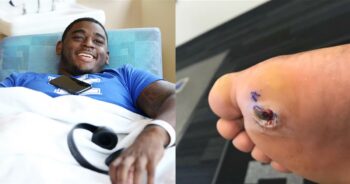 "I really wanted to stay strong in order to keep them strong as well, for them to know that 'I had it' and that I was going to fight it and we were going to be okay," Paschal says.
Head Coach Mark Stoops says Paschal projected confidence to his whole team all the while he was receiving three surgeries and physical therapy to recover.
"That has a lot to do with his faith in in his relationship with Christ and how far he's come and he's just a very confident and very matter-of-fact person," Stoops says.
Rehab included learning to walk again. To get out onto the field in 2018 required hard work and abundant faith.
"He was a beacon of strength to our team," says the FCA's Hogue. "Whether he could be on the field or not during that time when he was struggling and diagnosed, he had a smile on his face whenever he showed up. He was encouraging his teammates. Everybody drew strength from that."
He still made it back into the starting line-up for his sophomore season. In the second quarter, he made a tackle that forced a punt for Middle Tennessee, and the stadium rose to applaud him.
"Through Christ, all things are possible and I believe that."
As team captain last year, the junior got 32 tackles in 11 games, including a sack. He also recorded his first career interception against Mississippi State, taking it back 76 yards and coming up just short of his first career touchdown.
"I believe that God used me during his time to use my platform for young men who haven't trusted in the Lord yet," he says. "Jesus is the one true king and He's loving and caring. And He's a Heavenly Father."
If you want to know more about a personal relationship with God, go here
Christian Devantier studies at the Lighthouse Christian Academy near Venice, CA.