By Benjamin Lahood —
Lorena Saylor would get in her car and wind up at some random place, having no idea how she got there.
Depression had taken over her life.
"I didn't want to talk. I didn't want to go outside. I didn't want to get dressed. I just basically wanted to be alone," Lorena says on a CBN video. "There was times I wanted to commit suicide."
Lorena's problems started with sexual abuse in her childhood home in Kentucky. Although she was the victim, she was punished. "I was the one that got spanked for it," she says.
Migraines set in at the same time. She couldn't concentrate in school and was diagnosed with dyslexia. She also suffered from anxiety and low self-esteem.
Lorena married at age 25, but her problems persisted. Her husband was enlisted in the Air Force and would frequently be sent for lengthy deployments, leaving her and the two children alone for long periods of time.
"This voice would say, 'Ram your car into this tree. Your family would be so much better off if you're just gone.'"
She was raised in church, but "the back-stabbing of people talking about people, just the things I had heard and seen within the church, I didn't want anything to do with it," she says.
At age 33, Lorena suffered a back and hip injury at work. Unfortunately, her prescription pain medication turned into an addiction. "My body just craved more and more," she says. "I become a functioning addict."
She felt unloved. She wanted to be alone but despaired of the loneliness. Whenever she drove, she got lost in her thoughts and direction. The voices would tell her to commit suicide.
"I wanted to die," she says. "Many times I put pills in my hands ready to take them. This voice would say, 'Just take it. Your family would be so much better off.'"
But another voice would counter: "Who will love your children like you? Who will raise your children the way you would?"
In 2004, her husband was deployed to North Dakota for five years, while Lorena and their children stayed in North Carolina. She hit bottom.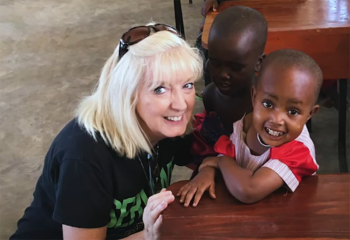 "I was on 10 medications, and my husband was drinking. I was ready for divorce. My family was falling apart," Lorena says. "I didn't know where to turn, I didn't know what to do. All I knew was. I was in this deep dark place."
Then something remarkable happened. A co-worker invited her to church, and she accepted.
The praise and worship music moved her deeply.
"I feel the presence of the Lord. I couldn't stop crying," she says. "After service was over and everybody was leaving, I found myself in the foyer. I'd hit a point where I was just done. I was finished, and this lady that worked with me had invited me to church and she was standing there with me and she says, 'You want to go pray?' and I said, 'Yes.'
"That day I gave my life to Jesus."
Then an amazing transformation began. "Something in that moment had changed tremendously inside me," she remembers. "All my life, I knew of Him, but I didn't know Him. Knowing Him it became a different dynamic in my life."
After a year of attending church, she was delivered from the addiction, the depression, the low self-esteem and the pain.
"He didn't only heal me," Lorena says. "He delivered me of everything."
She didn't even realize until five days later that she hadn't popped a pill. The migraines vanished, as did the back pain.
"In the days that followed, there was something inside that was like a thirst and a hunger that I'd, never experienced before," she says. "I said, 'Holy Spirit, teach me to read.'"
She began to consume God's word voraciously.
Lorena's husband, Raymond, and their children also gave their lives to Christ in 2015.
The couple has preached the gospel in Tanzania with Outside the Walls International Ministries.
"I just had to reach out to Him and He was there with open arms," Lorena says. "Jesus loves you and He has a purpose. He says, 'I know the plan that I have for you and that it is good.'"
If you want to know more about a personal relationship with God, go here
Ben Lahood studies at the Lighthouse Christian Academy in Santa Monica.